This article was co-written with Esra Doğramacı, Turkey specialist and digital consultant for BBC World Service.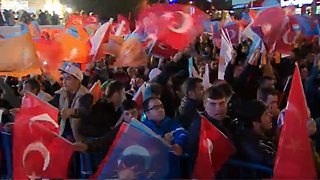 AK victory celebrations
Is the electoral victory of Turkey's ruling AK Party likely to further complicate the country's relationship with social media?
As Turkey prepared to go to the polls, raids on media outlets owned by the Koza Ipek Holding company resulted in two TV channels - Bugün TV and Kanaltürk TV - being taken off air. Similarly, efforts to stop the printing presses at the Bugün and Millet newspapers saw both publications resorting to Twitter to share their front pages with their readers. This isn't the first time that social media has been used to fill a traditional media void.
The justification provided by the Turkish government claimed that the media seizures were not related to press freedom but rather a multi-pronged war on terror. These incidents are the most recent in a series of conflicts between the Turkish government in both traditional and digital media. In 2015's Reporters Without Borders World Press Freedom Index, Turkey ranked 149 out of 180 countries, representing a 9% drop from 2002 when the AK (Adalet ve Kalkinma, meaning Justice and Development) Party came to power. At that time, it was ranked 99 out of 134 nations.
Despite this, the AK Party was returned to power, regaining its June parliamentary election losses, and extending for another four years its 13 year ruling stretch without having to form a coalition government.
Since 2007, the blocking of social platforms in Turkey has occurred on seven separate occasions, all under the current ruling AK Party. The reasons for blocking access to platforms have all centred on circulation of incendiary or offensive content to Turkey, or to Turks.
Incidents that have driven these (usually temporary) closures include the presence of videos on YouTube deemed to have insulted the country's founder, Ataturk, the publication of a compromising video of Deniz Baykal, leader of the largest opposition party - the Republican People's Party (Cumhuriyet Halk Partisi, CHP) - and the online publication of pictures of a prosecutor being held at gunpoint. In each instance, court orders blocking access to social media sites were only lifted after the offending pieces of content were removed.
More recently, following a terror attack on 10 October 2015, where nearly 100 people were killed in a bombing in central Ankara, social media users in Turkey found access to Twitter and Facebook hampered. Also, hashtags on Instagram tagging the cities Ankara, Istanbul and Diyarbakir were returned with the message that tagged posts were hidden, citing violations of community guidelines.
Such is the nature of social media in Turkey on contentious occasions.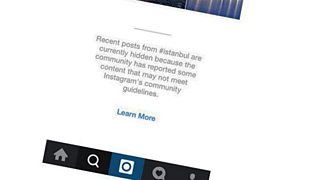 Instagram notice
As a result of these efforts, talk online quickly turns to discussion about how to use VPN's (Virtual Private Networks) and other methods of circumvention to be able to continue to access online content.
A new report from the Reuters Institute for the Study of Journalism reveals that in urban Turkey 88% of respondents used online news in the previous week, with just over two-thirds stating that they used social media as a news source. This last figure was the highest of the six countries studied, and considerably higher than the 18-country average (44%) identified in Reuters' full 2015 Digital News Report.
Much of the usage of social media for news in Turkey looks like it may be driven by a relatively low level of trust in traditional media. 45% of respondents stated that they do not think that they can 'trust most news most of the time'. This figure is 11 percentage points higher than the next least trusting nation, the United States.
As in many other markets, Facebook dominates social media usage for both news and other purposes. By late 2014 the market research firm GlobalWebIndex reported that 26% of the entire country has used Facebook in the past month alone. This was followed by Twitter at 17%, or 6.5 million of Turkey's population. Meanwhile, among Turkish mobile internet users, 51% of the Reuters Institute's sample in Urban Turkey used WhatsApp in a typical week.
Of course, not all of these platforms are used for news. Other popular uses for social media include entertainment, sports, and lifestyle as well as following personalities such as Turkish singers, television and film celebrities.
The top 10 most followed accounts on Twitter in Turkey include the comedian Cem Yılmaz (9.94 million followers), President Recep Tayyip Erdoğan (7.1 million) and the football team Galatasaray Spor Kulübü (5.8 million).
With high internet, mobile and social platform penetration, social media satisfies Turkey's hyper-connected, largely young population, yet at various times their usage antagonises ruling elites. Even though social media acts as both a news source and a forum for wider interests, online channels have repeatedly found themselves being blocked. They also face frequent calls to remove specific content. In the second half of 2014, Twitter received more requests from Turkey - through Government channels or by court order - to remove content than from any other country, and complied with nearly half of those requests.
Turkish audiences are incredibly resilient to such efforts, by-passing blocks through VPNs and then continuing to use mainstream social media channels once they are back online.
Although President Erdogan previously said 'Twitter schmitter, we'll close them all (social platforms)' that hasn't stopped him for signing up for Twitter. On 9 February this year he sent his first tweet, and, as noted above, he now has over 7 million followers.
This clearly embodies the continued tensions in Turkey between efforts to control social media and the need to embrace – and recognise - their popularity.
If a Facebook relationship status could describe the dynamic between Turkey and social media, it would simply be: 'it's complicated.'
Parts of this article first appeared in an extended essay "How Turkey Uses Social Media", published last month by the Reuters Institute for the Study of Journalism as part of their Digital News Report 2015.