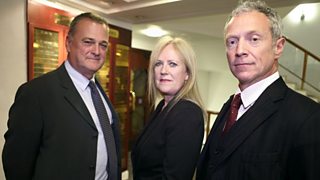 "Charismatic" chief crown prosecutor Claire Lindley with QCs Benjamin Myers and Gordon Cole
There were two questions hanging in the air when documentary makers Sara Hardy and Blue Ryan made their first approaches to the Crown Prosecution Service.
Why would anyone want to make (or watch) a TV series about the tedious, if worthy work of the CPS? And how could they embark on such a project, with no idea of what kind of films they might end up with?
Those were genuine questions from surprised prosecution lawyers at the Mersey-Cheshire service, into whose world the film-makers had spent six months trying to gain access. In their armoury, Hardy and Ryan had the experience of making an award-winning documentary for BBC One about the prosecution of rape cases - with unusual access to victims, but also contact with the professionals involved, including deputy chief crown prosecutor Alison Mutch of Mersey-Cheshire.
The CPS has never allowed cameras to film its work at close quarters before: "I honestly don't think we would have gained the access we did without having previously made the rape film," Ryan admitted, during a BBC discussion about the making of BBC Four's The Prosecutors: Real Crime and Punishment.
So what about the risk that the subject matter would turn out to be boring? They needn't have worried, Ryan explained: "Because we made people-based films, you see the victims on the receiving end. And the role of the prosecutors is quite similar, in a way, to that of programme-makers. We both try to tell stories in a compelling way."
The people whose stories the series follows are indeed compelling individuals, including, in episode one, the mother of an 11-year-old boy, killed in a head-on collision, whose candour and courage on camera are remarkable – not least after the driver is sentenced.
Viv Driver-Hart with crown advocate Jayne Morris at Chester Crown Court
Another is Viv Driver-Hart, victim of a savage assault, who had travelled from her home in Warrington to join the discussion at the BBC's New Broadcasting House. The inspiring story of how she overturned the CPS decision not to prosecute her attacker is told in episode two.
The real insights, though, are into the work of the lawyers and their detailed, sometimes agonising decision-making about whether to charge, and with what, when they know their choices could affect the rest of people's lives. As charismatic chief crown prosecutor Claire Lindley admits: "Some cases are indelibly marked on your heart."
In conversation with Clare Paterson, BBC commissioning editor for documentaries, Hardy and Ryan offered plenty of insights of their own. How, Paterson wanted to know, had they gone about getting consent to film from both police and victims?
"It was a very long process," Hardy confirmed. With no direct contact details for individuals, they had relied on police family liaison officers and their CPS contacts as conduits. Nicky Clifford, mother of the 11-year-old, ignored their forwarded letter for quite a while, before getting in touch.
Did contributors have the right to withdraw consent at any point, Paterson asked. Well, yes, Ryan said: "But Nicky, for instance, was very collaborative, even inviting us to film on the day she went and bought some pet rabbits," as an act of defiant normality.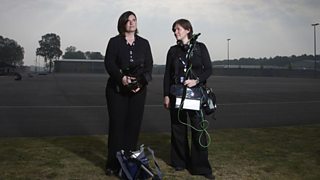 Working as a two-woman producing, directing and filming team, "mixing and matching" and often shooting on hand-held kit, Hardy and Ryan (above) followed a total of 40 cases over 18 months – in the end, featuring just eight in the three-part series.
Some had to be discounted when defendants were acquitted. Others could not be resolved in the timescale and there was inevitably story selection. "Lots of ideas came to fruition in the edit, and we were still filming while that was happening," Hardy said. Gwyn Jones was the film editor on all three programmes.
What was the effect of that on people who had agreed to be filmed but whose stories didn't make the final cut?
"We were very open about not being free of legal constraints, which meant that we might not be able to broadcast what we'd recorded," Ryan said. For instance, one case involved an incident that happened in June 2013 and the trial isn't due until this May. "So it was very brave of these people to go to all the effort of filming, with no guarantees."
The same legal advice they'd had while filming The Unspeakable Crime: Rape held true for The Prosecutors: don't film anything evidential. With such exceptional access to the workings of the CPS – free from press office minders and for the most part, filming "with a free rein" – it became all the more important, though perhaps more difficult, not to cross the line.
"We knew a lot that the families involved weren't allowed to know, so there was a lot of trust," said Hardy, with some understatement. "We were privy to discussions about the defence case at the same time as we were filming with Viv and Nicky (below), for instance. So we had to be careful about cross-contaminating the evidence."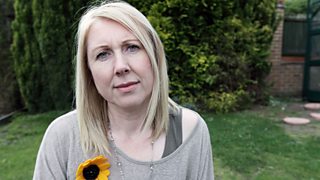 It was the mark of highly experienced film-makers that they managed to turn challenge, obstacle and the odd lucky break to their advantage. Viv's story, for example, had emerged after they were allowed to film a CPS lawyer as she opened letters of complaint – Viv's detailed, 12-page account among them.
"That worked for us," Ryan explained. "We filmed with the complaints woman, then with Viv reading from the letter she'd written. After that, we didn't talk about the evidence at all."
Not being able to film in court must have been a drawback, Paterson suggested. Well, not entirely. "We got permission from the Lord Chief Justice to take cameras into the [court] building. So when teams had briefings in the recess, we could record those conversations," said Hardy, securing "some amazing insights".
They also had transcripts of court proceedings and used excerpts as text on screen – both accurate and effective for the story-telling, as it turned out.
On one case in particular, involving a gang who'd been blowing up ATMs and stealing the cash, visual material was handed to them on a plate. One minute viewers can see police and prosecutors talking about CCTV of the ATM raids, the next they're watching the footage, making it "more urgent, more impactful, more engaging," Paterson said. "We had everything at our disposal as the prosecutors decided what would be used," Hardy recalled.
A questioner in the audience asked how the professionals featured had reacted to the final programmes. "There were some 'ouch' moments," said Hardy, but surprise too that they were such "engaging films". Another question was to Viv Driver-Hart: had she found the filming process helpful?
"It helped me get through it more... I'd written the letter off my own bat, but I [now] understand how things work. They're listening now," she told the BBC audience.
Paterson remarked on the unmissable cast of strong women – including Viv and lawyers at the top of the CPS – that the series had assembled. "Did you search them out?" she asked.
More a happy accident, said Ryan: "We did have some very strong women - good at the law and very brave to let us in… and leave us to our own devices. That's about trust."
A fair conclusion, safe to say.
Episode two of The Prosecutors: Real Crime and Punishment, by Gold Star Productions, can be seen on BBC Four on Wednesday, 2 March at 9pm. All three episodes will be available to watch on BBC iPlayer.
Our section on filming and recording