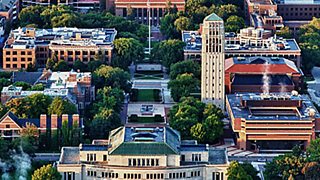 BBC journalists have until 28 March to apply for the latest University of Michigan and Reuters Institute Fellowships. Matthew Shaw, a winner of the 2015-16 Knight-Wallace Fellowship in Michigan, describes a "life-affirming" experience he nearly let slip by:
It was one of those annual emails which I'd spotted in my inbox for many years – and largely ignored: the offer of a four month fellowship in the USA, at a university I hadn't really heard of, in a state I knew little about. I never thought it would be for me. More to the point, I never thought I would get it.
But last year I took the time to read more. The Knight-Wallace Fellowship at the University of Michigan (above) is specifically targeted at mid-career journalists (though I don't like to think that when it's over I'm necessarily embarking on the end of my working days.) The fellowship is about re-evaluating your job, your journalism and yourself at a key stage in your life. It's also a chance to step back for a few months from what is essentially quite a high pressure, all-encompassing and often stressful choice of career.
As I investigated further, I knew it was right for me and more importantly the right time. I spoke to two former BBC fellows, Nigel Doran and Roger Sawyer. To say they couldn't recommend the experience more would be an understatement.
So I applied – it is quite a process – but it's only when you get here that you realise how competitive it really is. The Knight-Wallace Fellowship wants to hear about your dreams and ambitions - not just in journalism, but in life. You need to pitch a research project and seriously think about how you would contribute to the fellowship seminars and interact with the rest of the group. My project was about journalists and mental health.
I chose that subject because of a personal experience at the end of 2014. I had a period of depression and it encouraged me to look at ways of helping colleagues dealing with similar problems. The newsroom can be a very stressful environment and I wanted to look at simple ways of helping journalists with mental health issues continue to flourish at what they do best at work.
I'm delighted to say I got in. I booked an unpaid holiday (combined with a bit of BBC long service leave) and arrived in Ann Arbor, Michigan on a blisteringly hot Labor Day weekend in early September 2015.
Going to university for a second could seem pretty daunting, but the joy of the fellowship is that you're instantly given a bunch of fellow friends who are largely in the same boat as you. Some have brought their spouses and families so your social network is immediately quite extensive.
You spend time with them at Wallace House – the home of the fellowship – twice a week at seminars with other lunches and dinners dotted around. Be warned, there's a lot of eating and the wine flows but the variety of guest speakers, short classes and fellow presentations are stimulating, inspiring and always enjoyable.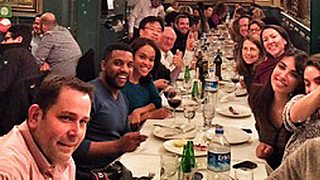 Our fellowship trip was to Turkey, at a truly turbulent time for the country. Frequently fed, (you can no doubt see a theme here, and meals like the one above were memorable) we heard from historians, lobbyists, feminists, film producers and top businessmen as well as touring key sites in Istanbul and Ankara.
You expect your own project to be challenging but the seminars are fascinating and the additional classes you are free to take across the whole campus are particularly enticing. Acting, pottery, ironwork and Spanish were just a few of the options on offer. I ended up studying post-war American fiction, screenplay writing, social 'intrapreneurship' and the history of musical theatre – my favourite.
My field of research brought me to the University of Michigan Depression Center – the first establishment of its kind in the world. Very quickly I was working closely with the faculty on a project to help journalists who bring their mental health issues to work.
It involved talking to journalists across the US about my own personal experience, leading to joint research with the Ross Business School into ways of making newsrooms more mentally healthy and, by implication, more productive. The university liked the work so much they raised money to keep me here, extending my stay by another semester.
That also meant I got to experience the winter – mild this year, but still bone-chillingly cold and lots and lots of snow. I've enjoyed living through real seasons for a change.
My time in Michigan is almost over. As I reflect on the experience, I can join Nigel and Roger in urging people to apply. This has truly been one of the most memorable, uplifting, rewarding and above all affirming times of my life. And just as many make friends for life at university the first time round, I know the Knight-Wallace Class of 2016 will be just the same.
BBC journalism fellowships 2016-17 now open for applications
My BBC journalism fellowship: Inspired by media giants and Pussy Riot
Only open-minded fellows need apply