It's not often that a new function on a smartphone leaves me open-mouthed at the potential impact for journalists. But that is the case with a feature of iOS 9, the latest operating system for iPhones and iPads.
Regular readers may point out that I wrote about iOS 9 at some length only recently - so why another post? Well, I wanted to give this feature its own post, rather than just adding an extra paragraph to my earlier one, because of just how useful I think it could be.
Credit where credit's due: it was Mashable's '12 hidden features in iOS 9' that sparked this off. I very nearly didn't read it, in fact - expecting another run-through of things I'd already seen a hundred times. But there's a nugget in there, buried at point eight: voice memo recordings (aka 'answerphone messages') can now be exported as audio files.
Mashable wrote it up as a way of 'getting voicemails off your phone'. But the impact for journalists is much bigger: it's a way to share recorded statements from interviewees, or even record interviews and share them.
Recording phone calls on an iPhone isn't easy - even before you think about questions of ethics and permissions. But if you do have the all-clear to do it, I've long recommended an iOS app called TapeACall. BBC Russian service reporter Dina Newman used it successfully to get an interview from Chechnya relating to the conviction of the Boston Bomber.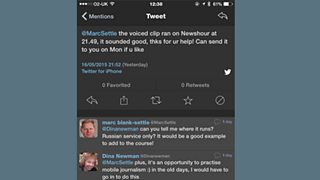 The app works well for SIM cards in certain countries, but not all; it's also quite pricey at £8. This new function on iOS 9 doesn't need an app, only the phone.
First we'll look at the 'statement' version. This is less than ideal, as your interviewee would go unchallenged, but something from them could be better than nothing. You can agree with them that when they call you you'll reject the call and send it to answerphone; if you don't get to speak to them yourself, leave a message for them saying that THEY could leave their statement for you on your answerphone. Once you see that there's a message waiting for you, tap on it and then tap the box with the arrow pointing up. The message will be embedded in an email, or it can be sent to Dropbox or transferred to VoiceMemo for editing.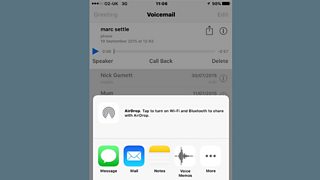 So far so good - but also quite limited. A statement is never as good as an interview, which is where the 'advanced' function comes in, even if it needs a little willingness from your guest.
Call them from your iPhone and explain what you plan to do. Press 'add call' and then call the phone number you're ringing them from. Yes, you did read that correctly: you need to call your own number from your own phone. As you're on the phone, your answerphone will kick in. At this point tap 'merge calls': you and your interviewee will now be recording your conversation on your answerphone. End the call and then proceed as above to access the recording.
When I tried this out with mobile journalist extraordinaire Nick Garnett it worked like a dream: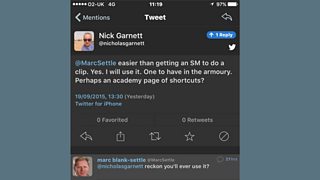 As Nick pointed out to me, a call made in HD voice (high quality) drops down to 'normal' call quality when this method is employed. The audio file format is Apple's m4a, which is compressed and less flexible than a WAV or MP3.
It's also worth flagging up, though, that it might not work with all network providers, as you need to be able to make a conference call to do the 'interview' version. Equally, it will only work at all if you can access visual voicemail (where your phone shows names/numbers of who rang, rather than only letting you call to hear the messages).
Either way, this new function of iOS 9 does mean journalists working in the field but needing a crucial quote from a guest on a story can now do it themselves and not ask someone else to do it for them from a studio.