Anyone who doubts the power of social media should spend a few minutes standing in the headquarters of the analytics company Banjo, as I did in the spring of 2015.
In a small air-conditioned room in Las Vegas, a few miles from the famous Strip, a bank of monitors show events unfolding in real time on social media around the world.
Giant spikes shoot from a spinning globe, indicating areas of unusually high social media activity. Another screen shows all the fires breaking out around the world, detected using image recognition technology.
Social media analysis can be super advanced like this, or extremely low-fi. And there are lots of free and simple tips and tools that can help (indeed Banjo themselves offer a free version of their service for journalists).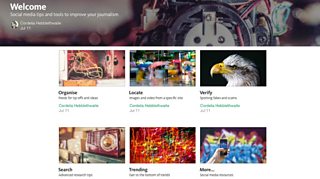 A couple of weeks ago, I finally hit publish on The Social Media Reporter (above). It's a free online guide for journalists that aims to demystify social media and provide practical, concise tips for navigating through the sea of information - and doing better journalism as a result.
I wrote it because I sensed an urgent need. Social media has become such an important part of the fabric of our culture and society now that it's key we understand how to sift through, analyse, understand and interpret what it's telling us. But most journalists still don't have the tools, training or confidence to do this.
I was working on BBC Trending when I first had the idea of writing a guide for journalists on using social media not for promotion, but as a journalistic research and reporting tool. It was the early days of social media and it felt very much like we were navigating through uncharted territory. Yes, there were some tools, but the overall picture was patchy and confusing.
Then, in 2015, I was lucky enough to be awarded the John S. Knight Journalism Fellowship at Stanford and spent a good part of my time there interviewing fellow journalists, as well as social media companies themselves, and testing out countless tools.
The result is this guide. I decided to write it thematically, i.e. to put myself in the mindset of a busy journalist. What is it I want to do? How do I do it quickly?
It covers: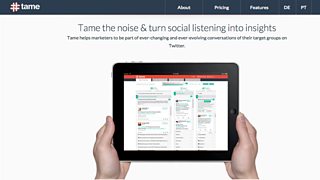 People often ask for my personal top tips. So here are three of my favourites:
Feeling overwhelmed by Twitter? That's understandable. There are two great free tools - Tame (above) and Twxplorer - that give you a snapshot of the most-shared links and most-used hashtags among people you follow. Better still, you can get the same analysis of any Twitter list you follow.
What's trending on Facebook? Facebook Signal is a free service, designed by Facebook specifically for journalists. You need to request access - and this can take a few weeks - but once you're in, it gives you access to a much richer source of information on stories trending on Facebook, as well as other enhanced search facilities. And it covers Instagram too.
Don't forget LinkedIn! As a journalist you can get a free one-year upgrade to a premium account after taking a short web tutorial on the LinkedIn for Journalists page. It's well worth doing as the upgrade otherwise costs $75 a month.
A premium account allows you can to send 'InMail' to people you are not connected to - perfect for those times when you are trying to get in touch with a potential interviewee/contributor, but can't find their contact details anywhere.
There's nothing more satisfying than finishing up a long project. But unfortunately - or possibly fortunately - this guide needs to be a living, breathing resource. A lot has changed in the period since I first had the idea of writing it. Tools have come and gone, and the role of social media in our lives has become so much greater.
And here's where I ask for other journalists' help. The guide will be a much more useful resource if others contribute to it too - with case studies, updates and tips. So, please share with your colleagues, around your newsroom and more widely. The guide is on Medium, so you can add a comment there. Or feel free to get in touch directly at cordeliaheb@gmail.com or @CordeliaHeb.
Cordelia Hebblethwaite helped launch BBC Trending, and now leads the digital and social media operation for BBC Newsnight.