Since I moved here just over two years ago, I've learnt there's a lot more to Qatar than it being the only country in the world to begin with the letter 'Q' (potentially a great word for Scrabble given the absence of a 'U', but apparently proper names are against the rules!)
As summer approaches, the mercury's already hit 48 degrees and it seems like a good time to take stock of some of what I've gleaned about news and media:
1.       TV is King
Just as in the UK and many other markets, TV continues to be the entertainment medium of choice.
The extent of TV's dominance was shown in a report that I launched last week. Households in the region are full of technology. Some have both satellite and cable TV. I'm not quite sure why, but it may be that households have kept their earlier satellite systems as cable and IPTV have come on stream. Or it could be because some services are only available on one platform.
Either way, even with high levels of smartphone penetration and other technologies, it shows that the 'death of TV' is no more likely here than anywhere else.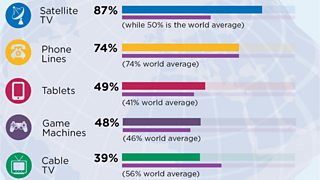 Media penetration in the Middle East versus world averages
 2.       What people watch
Perhaps not surprisingly, according to a new study from Northwestern University in Qatar, "Expatriates [across the region] tend to watch entertainment TV from their own countries or regions, whether these regions are in MENA, Europe, US or elsewhere in the world."
This certainly mirrors our own experience, although I still can't quite get my head around seeing non-BBC content (like Alan Carr's Chatty Man) on the BBC Entertainment channel…
Amongst Arab nationals, however, content consumption tends to be more localised, with Arabic speakers in the region typically viewing content produced in their own country - rather than more regional Arabic content. As a result, even in a small country such as Qatar (where the Arabic speaking population is under a million), there are several popular national TV stations.
From a news perspective, this finding makes sense, but evidence from Northwestern's study seems to suggest that this sentiment applies to all programming categories.
3.       Arabic content is popular across all genres
Despite English language skills being strong in many countries, and US-produced content widely available, only 18% of Arab nationals watch TV in English. This figure drops as low as 2% in Egypt. Even in more cosmopolitan countries such as the Gulf States, TV consumption in English is still less than 50% amongst Arab nationals.
For international news providers, this conclusion reinforces the need to have an Arabic language service as part of your portfolio if you want to reach Arab nationals.
The same is true online. CNN reported a 70% increase in unique users and visitors to its Arabic language portal CNNArabic.com during 2013. I'm sure it wasn't alone in seeing this sort of growth. Its recent introduction of a responsive design for CNN Arabic should be standard practice for both English and Arabic language content, if it isn't already, given the high levels of smartphone penetration in the region.
This is particularly true in countries such as Saudi Arabia where more than 50% of YouTube consumption is via mobile devices. It may surprise some people but YouTube is often a source of original local comedy - with Saudi-based comedians often leading the way. Many videos on the YouTube channel for La Yekthar Show have enjoyed more than 2.5 million views, while older episodes of 3al6ayer typically clock up around 1.5 million. These are big numbers and a good example of original Arabic online content on the web.
 4.       Rejoice! News is popular!
But it's not all comedy, drama and soap operas. Data from Northwestern has identified news as the most popular entertainment genre in Qatar (44%, versus 33% for comedy) and in Lebanon (51% to 43%).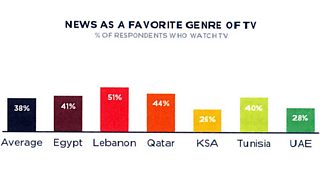 News as favourite TV genre in different countries
Personally, I've found that news is a popular genre for discussion and consumption in Qatar - with seven daily newspapers, lively discussions on forums and social media, as well as websites like Doha News and JustHere being part of this mix.
I've also seen people reading broadsheet newspapers whilst driving (and not just idling in traffic jams). But that's a story for another time…
5.       The move to online continues
Although comedy is the most popular entertainment genre amongst Internet users in the region, news content - according to Northwestern - came second, ranked as highly as music videos and ahead of both sport and drama.
Information videos are also popular online; often blending with humour to help make their point effectively. You can see this in the recent traffic safety campaign WranSade (literally 'wrong side' in the Qatari dialect) which has used online animations to highlight bad driving behaviour. Given that one out of eight deaths (12.5%) in Qatar are due to road accidents, this type of online campaign offers a potentially life-saving nudge to address this important social issue.
From a cultural perspective, I'd also recommend #QTips - a short series of videos (in English) which explain Qatari etiquette and culture in a light-hearted manner. A quick glance at videos related to Qatari men's national dress ('this is not a kilt') How Qataris kiss and How NOT to sit! will show you why these videos have gone viral and are so shareable.  
Right, time for me to hit Twitter to complain about the weather…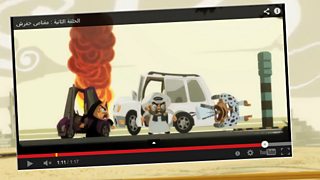 WranSade's driving safety animation