Heathrow disruption from the BBC's Ten O'Clock News
On Friday I filmed the headlines and top package shots for the News at Ten on my iPhone.
As the Heathrow Express pulled out of Paddington we were already on the phone to the item producer, running through the available shots. There were some helicopter shots showing the airport at a standstill; there was a camera at the Renaissance hotel - traditionally as close as you can get to filming in Heathrow with a decent view of the runway; there was some flight-tracker stuff off the internet; and one of two people had started to post pictures online.
What we were clearly lacking was stuff from inside the terminal: shots of long queues and interviews with miserable passengers. The desk had asked permission to film and been knocked back. Fortunately two of us were kitted out with iPhones fitted with PNG.
PNG is the BBC's own iOS app which lets journalists record, edit and send audio, video and photos directly from an iPhone or iPad -from wherever they are globally - straight into the BBC's internal media playout systems.
It's also the focus of the BBC College of Journalism's iPhone training course which I'd even gone so far as to have attended, but so far had not had the chance to put it into practice.
As we got to Heathrow we split up, recce-ing the short-haul terminals. My colleague hit the jackpot at Terminal 2 where angry passengers were already demanding refunds. I made for Terminal 5, where the passengers seemed more stoical, but there were some decent shots available: queues of passengers snaking past each other, shuffling forward by degrees.
We conferred. My colleague had already gathered several interviews on her phone and was using the PNG app to send them in to Jupiter, the BBC's news video storage system. I fired up PNG and took half a dozen shots of between 10 and 30 seconds, remembering to try to keep things as simple as possible - and, as I'd been taught, keeping my elbows tucked in to my ribs, using both hands to steady the camera, slowly angling my body to create a pan shot, and finding chairs and trolleys to give me a couple of feet extra height.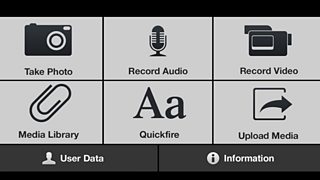 PNG interface
Once or twice I sensed I was being clocked by the terminal staff and moved on. But the sheer ubiquity of iPhones meant that for all they knew I was just another frazzled would-be passenger updating his Facebook status. The easy and straightforward nature of PNG (designed to be journalist proof!) meant I could get on with filming without having to focus on it unduly, and could maintain my situational awareness.
When I had a handful of useable shots, I switched over to PNG's upload function and picked clips for upload (see interface). At that stage I was still on 3G, so I opted to send the clips in SD to try to keep things as simple as possible. PNG prompts you at key moments: for instance, when you activate the camera it reminds you to switch your phone into airplane mode; and when you're getting ready to send footage it prompts you to opt for SD or HD. I started sending the shots, then searched for a decent wi-fi to speed things up.
Once I'd found wi-fi and gravitated toward the strongest signal (where, predictably, I bumped into an agency journo and snapper also keeping a low profie), the pictures were sent within a few minutes. With every sent item, PNG sends an email with details of how to find it on Jupiter, which I sent on to the programme team.
I'd covered the basics, and grabbed and sent a few more 'nice to haves' before heading back to joining my colleagues. One of them had brought an ENG camera to Terminal 2 and gathered more material that way, but was quickly spotted and thrown out by the terminal staff.
I wondered if any of my shots would be used - maybe the News Channel or Online would use some.
When I watched the Ten, I spotted immediately that they'd used one of my pictures as the top headline. I felt a surge of pride, and as I watched the package I realised that a sizeable chunk of the piece was my iPhone shots. More than that, my colleague's shots were used as well, including an interview she'd shot on her phone which was used alongside the stuff she's gathered on ENG. The ENG material was better, but the iPhone stuff wasn't really that different. Certainly they didn't look out of place sitting next to each other.
The main thing to say is how incredibly easy it was both to use the app and to recall the main points of the course. I didn't really have to search my memory or faff about with the technology. I'm not particularly tech-savvy. I just opened it up, followed the prompts, got in the zone, and grabbed some pictures which were not necessarily stunning but which got us into a place we didn't have access to.
Pictures on the Ten. Bingo. The other thing is that, when you are filming on a phone as opposed to a camcorder or DSLR, you can just blend in and melt away, as easy as that. No-one bothers you, or asks what you're up to, because, well, everyone has a smartphone, right?