The work of inspirational BBC journalist and trainer Claire Prosser has this week been recognised with the 2015 lifetime achievement honour at the European Diversity Awards (EDA).
As both a programme editor and founder/director of the BBC Journalism Trainee Scheme, Claire championed diversity across BBC News and beyond. She died at the end of 2014.
In his submission to the EDA judges (below), Mark Wray recalled Claire's talent for spotting potential and opening doors to new talent that might have previously been shut, concluding: "Her legacy is very much alive."
And in this short video, presented by Jeremy Vine and featuring tributes from senior BBC colleagues, some of Claire's former trainees - now blazing their own trail across the industry - remember a much-loved mentor who changed their lives and "shook things up":
Claire Prosser was an extraordinary woman and like so many remarkable people the full extent of just how special she was only became clear with her passing.
Claire died in December 2014 aged just 54. Her loss was felt keenly by the hundreds of people wanting to pay tribute to her and what she'd achieved. And her greatest professional achievement, recognised in countless heart-felt eulogies, was being a true champion for diversity: not in the sense that this was her job, a title or a slogan. It's not something she would have dared call herself. But champion she was, in the sense that diversity for her wasn't a nice-to-have, or a politically correct box to tick.
Claire believed that equality of opportunity was fundamentally right. That whatever one's background - ethnic origin, social class, religion, physical ability or even football team - talent should be given a chance to shine.
And she gave a chance to dozens who are now making an impact on BBC News output and the programmes and services of other broadcasters and media companies. For many times that number she was an inspiration and role model.
As the white daughter of a Surrey banker Claire wasn't an obvious flag-bearer for diversity and inclusivity. But she didn't believe in stereotypes and when confronted by them would challenge them head-on.
In her early days in the BBC, Claire worked as a journalist in the male-dominated Radio newsroom at Broadcasting House, where women were more likely to be copy typists or secretaries. She impressed and progressed, leading what some have described as a 'quiet revolution'.
Radio newsreader Harriet Cass recalls: "It seems incredible now, but there were hardly any women at duty editor level or above. It didn't seem to be only a glass ceiling, but a glass attic and roof as well.
"Two or three duty editor posts became vacant at the same time, and Claire was encouraged to apply. To everyone's surprise - not least hers - all the appointments were women and Claire was promoted to assistant editor, which was two steps up. Cue much rejoicing among the women in [BBC] News and, to be fair, among some of the men."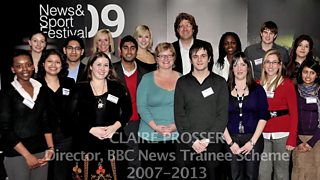 Claire continued to take on the men, later securing the editor's berth at Ceefax before moving on to a senior role at BBC Radio 5 live, unkindly christened by some observers as 'Radio Bloke'. She, of course, was having none of that and sought, through her programming choices and editorial leadership, to make 5 live's output as representative as it could be of the available audience rather than the actual listeners, 70% of whom were indeed men.
Later Claire was asked to take on the BBC's News Sponsorship Scheme with a brief to look beyond the Oxbridge candidates who'd traditionally had a stronger chance than other graduates of getting in front of a selection board. For non-graduates the chances were remote.
This entry-level scheme for News recruits became, under Claire, the Journalism Trainee Scheme, or JTS, with an enhanced diversity brief - one signed up to by top brass in BBC News but most definitely owned by Claire herself.
A small army of shortlisters from BBC News was assembled by Claire in the knowledge that those she'd hand-picked would be prepared to select applicants based on ability, experience and potential rather than from what school or college they'd been to. Claire went a step further in not allowing those with one foot already in the door to apply: those with jobs in broadcast news and those on formal journalism courses were discounted in pursuit of a new type of applicant.
But this wasn't about creating a new kind of elite, of giving those who had a diverse background and nothing more a golden ticket. It was about spotting them from up to 5,000 applicants for each intake, systematically scoring and comparing notes and inviting a final group of 60 to a selection day more rigorous than most senior executives would ever be expected to complete. It was one that tested their knowledge, team skills, broadcast presence, creativity, resilience and ultimately their potential.
Their story and Claire's involvement in shaping their futures is told in our video. The extent to which Claire changed so many lives became clearer still with her passing.
These are some of the tributes offered by what she considered to be her extended family:
"She did more for real, open diversity before the word was even invented than most of us... And her laughter was a gift."
"There is no doubt that without her I wouldn't have the career I now have in the BBC. She was an important person who touched my life quite briefly but changed it massively."
"I will remember her humour, strength, honesty, compassion and the fact she challenged and changed the system at the BBC. But above all I will remember her unwavering faith in me even when I did not have faith in myself."
Claire's commitment to diversity and to the JTS as a means of giving diversity a practical outlet in the BBC was such that even after the sudden and tragic death of her son Tom, aged 14, she continued to lead this scheme from the front.
One of her trainees at that time was Dhruti Shah: "She didn't choose people because they were brown, black, rich or poor. No, she picked us because she spotted something in us that she knew would shake up the BBC. And damn right we have. We're spread out all over the world and we're making a difference in the way stories are told. I know we are doing Claire proud."
Dhruti and other former trainees are now working together to see how they can support new journalism trainees in the way Claire supported them: another example of how her legacy continues.
Recognition of Claire's outstanding achievements through this award is another fitting and appropriate way of making that happen.