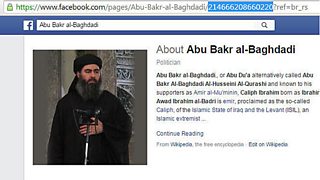 I've written here before about some of the shortfalls I've found in the new Facebook search.
Sadly, one of those is that it doesn't always allow you to specify the people or pages related to your investigation. Happily, you can still use the old Graph search, but you will need to customise web addresses with the Facebook ID numbers of your search subjects.
Facebook ID numbers are often shown in the address bar of the page you're interested in (as illustrated above).
If there's only a page or user name in the address bar, you can look up the ID number on FindMyFacebookID, or simply visit http://graph.facebook.com/ followed by the user name. For example: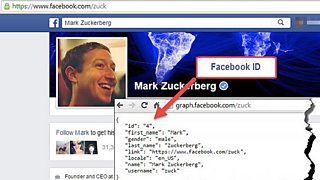 Once you have the ID numbers, use the searches below as the basis of your new search, but replace the codes with the Facebook ID numbers you have found.
For example, the foreign minister of Latvia is Edgars Rinkēvičs. A Facebook Graph search for his friends who like the Beatles would look like this:
Have a look at the address:
www.facebook.com/search/69116329538/likers/100001539665978/friends/intersect
It contains the code 69116329538, which is the Facebook ID for the Beatles official page, and the code 100001539665978, which is the Facebook ID for Edgars Rinkēvičs.
If you wanted to apply the same search to friends of Estonian foreign minister Keit Pentus-Rosimannus, you would have to find her profile, look up its Facebook ID and then replace Edgars's code with her Facebook ID.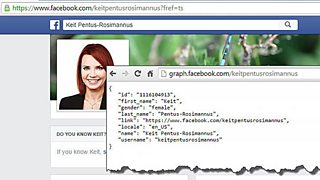 Keit's Facebook ID is 1116104913. The new search looks like this: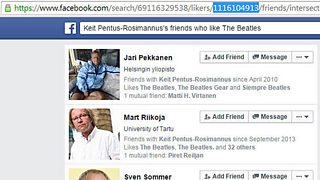 Of course you can also replace the Beatles code for that of other pages: