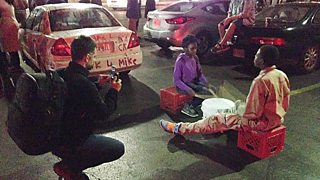 The live-streaming of news events is nothing new. Activists, protesters and, occasionally, members of the media have done so straight from their mobile devices and bypassed traditional broadcasters altogether. But the medium remains fertile ground as a reporting tool, and one that might deserve even more consideration.
Last week we were deployed from the BBC's Washington DC bureau to Ferguson, Missouri, following the shootings of two police officers. From the outset we decided that we wanted to cover expected protests that night with a live-stream. The only question was how? Which service should we choose?
Meerkat is one of the newer players in the market of live-streaming applications and it's receiving some attention due to a close integration with users' Twitter feeds. In short, you need a Twitter account to broadcast or watch a video stream on Meerkat, and every comment made on the video will also be sent out as a tweet from the Twitter account you're using.
Since Twitter has become so synonymous with big, evolving, live events, we decided to use Meerkat for our purposes.
In hindsight it's possible that more established apps like Livestream might have served our purpose better, as professional broadcasters, since it offers moderation of comments, muting the microphone when necessary, connecting to a better camera and a viewing experience without a login. But we wanted to give this a shot.
Dividing up the work
Doing this in a volatile and potentially dangerous situation seemed too much for just one person, and at the end of the night we agreed that two people was the perfect combination for this job.
One journalist acted as cameraman and main commentator on the action in front of him (David Botti is pictured top live-streaming from the protests). The other kept pushing the link out on social networks, interacting with commenters on the video feed, interviewing bystanders as we saw fit, and liaising with an editor in Washington for feedback and guidance.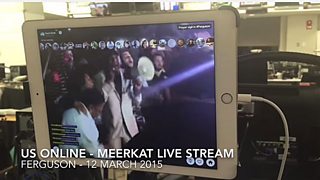 A YouTube video shows what viewers of the live stream were watching
Traditional broadcast versus raw live-stream
The feel of the stream was a balancing act between providing a raw video experience and actual reportage and analysis. We'd made multiple trips to Ferguson since August and had plenty to say, and people to interview on the street.
But the appeal of the live-stream is that the audience feel as though they are watching events unfold right in front of their eyes. It's sometimes not the best visual or audio quality, but it feels uncensored.
So we recorded the protesters walking up and down the street, the drumming kids on the side, and the vigil in its entirety - for more than three hours straight. We would only briefly interject with comments and recaps every few minutes, and pulled in bystanders and protesters from the street to talk to us every 15 minutes or so.
Of course streaming live meant any profane language being shouted could not be censored (you can only 'mute' the phone by holding your fingers against the microphone). This is perhaps where the second journalist, the producer so to speak, was helpful, because we could pre-interview people, making sure they were aware of the nature of the live broadcast.
The social side
Throughout the stream we were able to measure how many viewers we had (by the end more than 300 people were tuning in). The numbers consistently increased and never dipped - not even in moments when we didn't say anything for 10-15 minutes at a time; just pointing the iPhone at a single spot.
The comments on the stream increased every time we interviewed somebody or asked the audience for feedback. Occasionally we would ask if people could still hear us, or if they had any issue with the video quality (the answer: we can hear and see you perfectly). The 'producer' would check in with commenters from time to time, asking if they had any questions or simply thanking them for complimenting our effort.
Full transparency
Since the mic was always on, our personal conversations were also being broadcast. At first we whispered to each other about what we wanted to do next, but at some point just decided to make the audience part of those discussions too. Do we want to walk up this street? Is it time to talk to another protester?
Another challenge is of course the iPhone itself. The built-in flashlight can be turned on permanently during a broadcast and that was a tremendous help during interviews. But on a dimly lit street, well past sunset, we did sometimes wonder if anyone could still see what we were actually filming.
The equipment
We used a high-capacity battery pack as the main power source for the iPhone that was doing the streaming and after three hours the battery life was still more than 80%. The iPhone was attached to a tiny tripod which made for a better grip, but it may have been useful to carry a monopod or a selfie stick to allow for more unusual angles (and spare the cameraman's aching arm).
Repurposing material
Meerkat allows you to save the video when you finally stop the stream, but a three-hour video was cut down to merely 1:13 hours and was mostly out of sync. That didn't allow us to chop up the best parts and repurpose them for a video the BBC could use for TV or the website. However, Meerkat is still new and hopefully the bugs will be worked out.
Serving more than one audience
A great byproduct was the way the live-stream informed our colleagues back in the office and in other locations in Ferguson. Our main news story on the website was in large parts informed by what the reporter saw and heard on our feed, and another BBC crew was able to make decisions on its positioning in Ferguson based on the same information.
After the recent Twitter acquisition of a Meerkat rival, it is unclear who will win out in this race to capture the live-stream market. However, almost all of the lessons learned can translate to almost any application out there at the moment. The appeal cannot be ignored, both from a viewing experience and even, as we found out, from a production point-of-view.
Watch a YouTube video of the Meerkat live-stream experiment
Our filming and recording section, including smartphone journalism
Our blogs by smartphone specialist Marc Settle
Smartphone broadcasting: 5 live's Nick Garnett
Blogs on mobile reporting by Nick Garnett
Live-tweeting a breaking story #PistoriusTrial