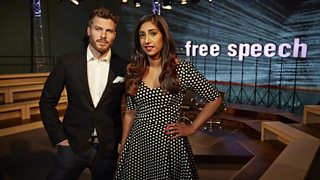 Rick Edwards and Tina Daheley, Free Speech presenters
In 2010 only 44% of 18- to 24-year-olds voted in the general election and it's unclear whether Thursday will see a bigger turnout among young people.
But if politics struggles to reach young voters so increasingly does television. In recent years there's been a drastic decline in the number of 16- to 24-year-olds watching. The average age of the BBC One audience is 59; with 60 for BBC Two.
Free Speech - the programme I work on for BBC Three - is a television programme about politics, so we face in some ways the ultimate challenge. Now, as the show comes to an end in its current form, is there anything we can pass on based on what we've learnt in the past year and-a-half?
I've got loads to say on this topic but with only a little space I'm going to have to go for just one important thing. And that one thing is this:
Go to where people are.
On Free Speech this point came home to me when we got clearance to start putting clips of our show on Facebook. The results were astounding.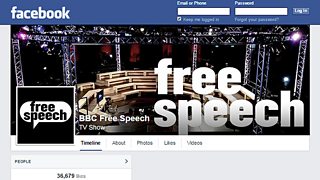 Free Speech on Facebook
The clips started doing well - sometimes a lot better than our live broadcasts. One 11-minute clip of Owen Jones debating with Suzanne Evans of UKIP has reached 3.3 million people via Facebook and doesn't show any sign of stopping. If you add up all the views of clips we've put up online, more people have watched our show online in the past year than have watched it on television.
If you want to watch Free Speech on the box, you have to put the date in your diary, especially as we're not on regularly. On Facebook you watch a debate when your friend shares it. It's so much more convenient.
In fact our audience prefer watching clips online so much that they put up clips themselves. I keep a playlist on YouTube of third-party uploads I come across; adding them up, you get to half a million views. Our audience put them up on Facebook too and, though these clips are harder to find, one clip which is currently spinning around Facebook (of Akala taking on Tommy Robinson) has had 3 million views and is still growing.
As well as putting up as many of the live discussions online as we can, what's worked for us best is making stuff (I hate the word 'content', useful though it is) directly for the social networks which our audience use most (mostly Facebook). Although we're a TV show we didn't outsource this. Every day we put up new things: short-films, animations, debate-starting infographics, and links to other parts of the web that fit our 'make you think' remit. Whatever the topic, be it "When will it be OK to be Muslim and gay?" to "Is it OK to like my mental health problem?", we themed what we did around that issue. The idea was that the live show came out of the online conversation as much as the other way around.
As a result we've tripled our Facebook likes in a year to 36,000. In TV terms 36,000 doesn't sound like a lot of people - but these subscribers are our hardcore fans; when we make something good they make sure it's seen by sharing it with their friends. One graphic on drugs went viral around the world, being translated into other languages. It's reached 3 million people so far and is still being shared.
In the leaked New York Times Innovation Report - an internal report written by some of the paper's top journalists, who turned their investigative expertise on their own workplace - the paper reflected on the tradition of the newspaper industry in reaching people where they are. They pointed out that long ago the industry pioneered the most "sophisticated consumer-outreach operations in history" by which newspapers written and printed at a central location would be distributed to people's front doors all over the country.
"But when the time came to put our journalism on the web, we adopted a much more passive approach. We published stories on our homepage and assumed that most people would come to us."
Today newspapers get their content in front of their audience in a million different ways: email, Facebook, Twitter, YouTube… and TV could learn a lot from that.
Too much of the industry still has a 'come to us' mentality. There's a strict sense of what the viewers' journey should be: from broadcast, to catch-up and so on.
As a producer I recognise the desire to control the environment in which people see your show. You want people to see it context; see the whole thing, and so on. But I'd argue it's time to let go. Put everything up everywhere: short clips, long clips, 30 second bites, the whole show - don't hold back. And let's start making more things designed to flourish in the parts of the internet that people use most.
I know there are issues with rights and so on, but the instinct should be to put the viewer and their convenience first. Don't presume viewers will come to you, because in an internet world rich with entertainment that puts them first they won't. Go to where they are.
Free Speech has recently finished its fourth series on BBC Three with a series of election specials examining the political parties. The programmes included an hour of questions to Ed Miliband, and a programme on the Conservative party titled I'm a Tory: Ask Me Anything.