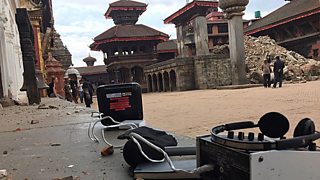 In this two-part blog, mobile journalism specialist Nick Garnett describes the particular challenges of reporting from the Nepal earthquake zone:
I'd come back from assignment in Malta the day before the Nepal Earthquake, working flat out after the tragedy in the Mediterranean when a boat carrying 800 migrants sank off the coast of Libya. Within 24 hours I was on my way to Manchester Airport with the largest amount of equipment I've ever carried to a job.
As well as a few clothes, cold weather gear, safety gear, med kits, sleeping bags and food supplies, I was carrying my standard satellite dish (a Hughes 9202), a Glensound ISDN codec for voice work (rigged for use above, in Bhaktapur, Nepal), six packs of batteries, a sat dish charger, mics, cables, cans, tripod, iPad and iPhone (loaded with Luci Live and Voddio for lives and editing), an unlocked mi-fi and a world-compatible Samsung.
Thirty-five minutes after arriving in Kathmandu I was doing the first of around 50 broadcasts I was to do in the next five days. Just as I was about to go live via satellite, the birds took off from the trees and shutters rattled on shop fronts. It was the first of more than a hundred aftershocks to hit me in Nepal that week. Most of them I didn't feel - but the first one I did.
I used satellite because mobile comms were already proving to be less than reliant. I'd bought a local SIM card with data at the airport but it worked much less than my standard UK mobile on roaming. Luckily before I'd left I'd talked to the BBC's telecom team who'd worked out a deal with O2 which allowed me 200MB a day of data as well as calls. It was an important deal to strike.
That night we thought it too dangerous to stay in the hotel so it was a case of hunkering down in our sleeping bags outside. After an 18-hour flight it wasn't a problem getting to sleep.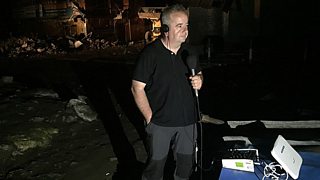 The first full day saw me hitch a lift with the BBC TV live team, led on air by Yalda Hakim. We drove up past the cremation sites on the outskirts of Kathmandu to Bhaktapur - one of the most important sites in the country for its temples. A number had collapsed.
Again, using satellite, I was able to broadcast. But I noticed how low in the sky the sat dish was and, even more strangely, there appeared to be two satellites in the sky, 180 degrees away from each other. I'd forgotten just how far away from Europe we were. But both sats were low and it was causing me and other broadcasters problems.
Built-up areas meant the satellites weren't able to be 'seen' and mobile comms were all but impossible. I checked data rates and they were too low to broadcast over or even file large pics or audio.
Torrential rain in the afternoon in Durbar Square in Kathmandu brought a fresh set of problems as cables and connections were soaked. High winds started to move the sat around as well, which led to the first known use of the remains of a temple to secure a sat dish. You'll be glad to know I replaced the stones afterwards.
Kathmandu was an incredibly safe city to be in. There was no lawlessness that I saw, no looting, and people didn't mind me being there or talking to them and photographing them. I'm really pleased with some of the images I managed to take on my iPhone 6 Plus, which once again proved that a device that people are comfortable with will open doors which would be shut in your face if you pulled out a DSLR camera.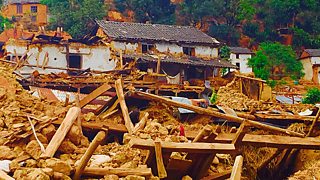 The next day I managed to get out of the capital and head north into the hills with BBC World Affairs correspondent Richard Galpin's team. We headed for a village in the Sindhupalchok district that we knew had been badly hit. I got out of the 4×4 and, carrying my kit in a rucksack, walked round a corner and arrived in hell on earth.
Amazingly, given the scale of destruction, when I checked my mobile phone there was a good 3G signal - in the middle of a disaster, in the middle of nowhere. So I hit Periscope as I wandered around the village. This wasn't rehearsed, so as the scale of the damage hit me you could see my hand start to shake.
The rest of the day was spent seeing and witnessing one lousy awful miserable depressing thing after another. Homes were ruined, lives were lost, bodies found, and still the people of the village were welcoming and friendly. At the end of the day a boy asked me if I had any face masks he could have as the smell of what was left behind of his home was so bad he was having trouble sleeping.
In part two of this post Nick Garnett describes commentating live by phone on a miraculous rescue from the rubble.
This is a slightly edited version of the author's original posting.
Mobile journalism had its place in Paris but it couldn't work alone
Our other mobile reporting blogs by Nick Garnett
Nepal: Why are some disasters bigger stories than others?
Blogs by BBC smartphone reporting specialist Marc Settle
Smartphone broadcasting: 5 live's Nick Garnett
Smartphone journalism: Photographs
More filming and recording skills
Focus iPhone, record and send - instant video hit from storm-lashed Sardinia
Filming for TV on iPhones in Nepal: A balancing act worth the risk