In the first of a series of blog posts on alternative ways to get into journalism, Chicago-born self-taught journalist Tim Pool, now an international correspondent for media company VICE, tears up the traditional rule book. "Just do it" is the radical 27-year-old's mantra, and he argues that the definition of what a journalist is - and who qualifies - is no longer set in stone.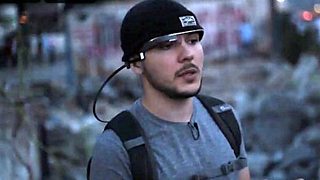 "I'd definitely call myself an accidental journalist," says beanie-hatted Tim Pool. "I've always been into technology and on social media. But it wasn't until the whole 2011 protest thing - the hacker movement online, Anonymous and the Arab Spring - that I started blogging. And when I saw what was happening with the Occupy Wall Street protests I wanted to be there. I wanted to know what was going on, and I wanted to tell other people what was going on."
Back then he was using a trusty Samsung smartphone to upload video to Twitter and Facebook. The "very real possibility" of the New York Police or hostile activists confiscating cameras or computers and destroying memory cards - plus a desire for more storage than the 16 gigabytes available to him - persuaded Pool to start live-streaming, using online platforms and connecting to social media. "When I went live, an automatic tweet went out with the relevant hashtag, and so people started searching for my broadcasts."
I imagine he quotes these figures a lot. I know I would. On day-one of live broadcasting from New York he had about 17 viewers. That night it went up to 70; next day 200; then 2,000; then 16,000; then 35,000.
"On the day the police raided the park where the protestors were I had around 750,000 viewers. Two days later that had risen to an audience of 3.2 million. Madness."
He admits that at this stage he didn't think what he was producing was journalism - more "an accurate record" of what was happening at what he viewed as world-changing events.
But he spent the whole of 2012 travelling to cover political rallies and major protests, including in Spain and the UK, as well as breaking news stories like Hurricane Sandy back in the US. By now, he says, he was describing himself as an independent journalist, working for donations from media companies that wanted his material.
"But the further you travel the more costly it gets. In Spain I certainly lost money. And I definitely wanted to go further, so I decided I needed to join an organisation." People at VICE knew his work and he was invited to join the company as a correspondent in summer 2013.
The violent protests in Turkey last June were Pool's first assignment for VICE and he covered the story using Google Glass technology. "I'm always on the look-out for affordable new tools for news reporting - including experimenting with $300 drone cameras - and Glass is interesting in that it is voice-activated and gives you social media feeds directly in front of your face. That makes life easier in the field, and much safer. When Turkish police are firing teargas, the last thing you want to focus on is holding up a camera or smartphone."
Seven months on he has had foreign assignments in 14 countries, including to cover the conflicts in Ukraine and Thailand, usually travelling now with a VICE cameraman or producer.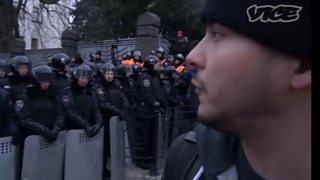 He's aware his own story is unusual: "It's true that most of the industry works in what you'd call the traditional way, but there have always been people like me - a bit more independent, maybe unorthodox. Having little or no understanding of the 'right' way to do things can actually be an advantage. You learn fast out there, just doing it. I've had no formal training at VICE."
A lot of students email him to ask how you become a journalist, he says. For New York-based Pool there was clearly no journalism school - in fact no high school, after he unusually opted out at 14 and later lasted two months at college before deciding that wasn't for him either. "I just travelled instead; tried to experience what was going on, tried to understand; and then share it through social media," he explains.
He thinks too many students believe that going to journalism school is their ticket to a good job in journalism: "It depends on the school, of course, and some schools are getting much better at integrating the technology people need into their teaching. Personally, I'd say you learn more out in the world than in a classroom. I wouldn't tell people to go to Syria, for instance, but there are plenty of other places you can go."
Pool accepts that his route in might not be for everyone and that there is more than one way to learn. "It's not black and white," he concludes, and neither is the nature of the job.
There are citizen journalists who are members of the public who just happen to be close to a breaking news event and film it on their smartphone - perhaps never to file another video again, he observes. Independent journalists, like Pool was before last summer, are people working alone, seeking out stories, trying to be on the spot to collect the information and distribute it.
"Then you've got affiliated or professional journalists, of which I'm now one. But all of these are journalists, and the word is losing its narrow definition."
One thing that isn't negotiable for the VICE man is having the technical knowledge to keep yourself safe. It's not an option, Pool insists, not to understand the technology when it's "so easy for special interests to hire a hacker or some security company and threaten you, your work, your friends, your families, your sources".
In hostile environments where security is particularly bad, journalists need that understanding more than ever to protect themselves, he says. "Big organisations have 'presumed' security but that won't stop regimes tracking you via your mobile phone if you don't know how to stop it."
Talking of technology, Pool's latest tool is a standalone, fully functioning smartwatch. It's a camera, and he can use it to do a live broadcast and connect directly to social media. "It's made by a company called Omate and was developed via a Kickstarter campaign that I backed. So I'm one of the first people to get one" reveals the passionate early adopter.
He's trying it out now. No-one said being a journalist isn't fun.
Watch Tim Pool's presentation at the BBC's #SocialMediaWhatsTrending conference
Smartphone journalism video skills
The BBC Journalism Trainee Scheme (applications for 2014 are now closed)
How to become a BBC journalist
I've seen the future - in a little square above my right eye
SocialMediaWhatsTrending - the old barriers are down