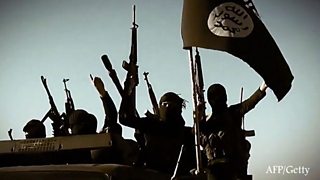 Jim Muir's 11,000-word explainer Islamic State group: The full story is the longest article the BBC News website has ever published. It's epic, with engagement levels to match. Here's how he tackled his "monster":
It was a Friday in January and my phone rang in Baghdad, where I was on assignment. It was my regional boss, Richard Colebourn. Would I be interested in doing a big online take-out on IS – bells and whistles and all, a project suggested by director of BBC News James Harding?
Indeed I would. I jumped at the chance, no persuasion needed. Delivery was due end of February, which seemed a long time away. Luxury.
I'm not sure I realised at the time that it would be in many ways the toughest assignment of my career.
I was excited because there was so much I didn't know about so-called Islamic State, though I'd reported quite a lot of its inexplicable doings. My brief was to make them as explicable as possible. Why do they do the things they do? Why have they been so horrifically successful?
It would be a voyage of discovery.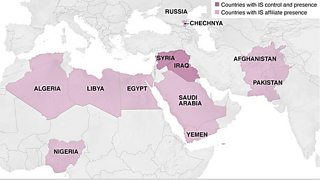 Source: Institute for the Study of War, February 2016
Baghdad was a pretty good starting point and I was there already. I extended my stay, and talked to as many people as I could who had anything to say about IS.
Hisham al-Hashimi, a widely-quoted expert on radical Islamic movements, set me off on the trail of IS's ideological roots as well as its structure and prospects. I spoke to a Sunni politician friend with an intimate knowledge of the Iraqi environment IS was operating in and to a Shia leader whose Iranian-backed group is heavily engaged fighting the militants on the ground.
I also spoke to two hapless IS operatives (including Bakr Madloul, pictured below left, during his time with IS) who'd been captured by the Iraqi security forces – destined to hang, both involved in the manufacture or placement of car bombs which killed dozens of innocent people. I desperately wanted to know what was in their heads. I came away feeling that they were almost as much victims of circumstance as their own victims were. Neither was ideological. They just got sucked in because IS was the only game in town and it seemed like a good idea at the time. Not now.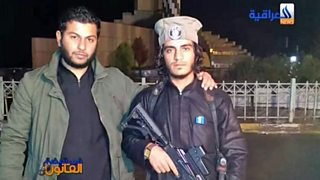 By the time I was back home in Beirut and had translated or transcribed all the interviews, it was already into the second week of February.
But I wanted more first-hand material, and a proper military briefing on IS order of battle. So I flew to Erbil in northern Iraq, capital of Iraqi Kurdistan, where I'd lined up chats with Kurdish and western military and intelligence officials as well as sources from the key IS-held cities of Mosul and Falluja. I wanted to try to get a real idea of what life was like under them on the ground.
And there was another IS prisoner, this time one who really did believe in the cause and was still ready to give his life for it, though there seemed little fanatical or menacing about him.
Back in Beirut, more translating and transcribing, and another big interview, with an American University of Beirut professor, Ahmad Moussalli, who has written extensively on Islamist ideology and politics.
Collecting time was done. A line had to be drawn, though research could have gone on forever.
There now began about a week of intensive processing, cogitation and fermentation, consulting books, discussing with friends, scouring the internet, chasing ideas and trying to pull things together. I sympathised with a friend who's writing a book and confessed himself overwhelmed with the volume of information that gushes forth when you search the web. Managing it, and retrieving glimpsed nuggets that disappear in the torrent, is a real challenge.
Only then could the actual writing begin, a strange process of simmering, synthesising and crystallising a mass of thoughts and information.
The structure fell into place as the story unfolded, from the historical, religious and ideological roots of Salafism through the trajectory of jihadist militancy, from Afghanistan to Iraq to Syria and back to Iraq, and then going global with the 'caliphate'.
Then there were details of life under IS, its organisation, military prowess etc, the spaces that it is taking up, the impossibility of simply defeating it militarily and closing the file.
The writing took a week and was finished at midnight on the last day of February. Thank goodness it was a leap year. I'd been asked for around 5,000 -6,000 words and I'd done 8,500.
Conference call with BBC News Online and other bosses the following afternoon: they were happy, but instead of wanting cuts, they wanted more. And they didn't seem to care about length. So another two days of writing. In addition to the wanted add-ins, I snuck in a new final section on IS's geo-political role in the strategic, sectarian balkanisation that's going on in the region.
It was now a monster 11,000 words. After a final fine tooth-combing (some nits were found), the result, splendidly embellished by the team in London with pictures, embedded video, hot links, graphics and out-takes, was finally launched onto an unsuspecting web.
The bosses were anxious. It was bigger than anything they'd ever put up before. Would anybody bother to plough through such a lengthy piece on such a serious topic?
Apparently they would. The numbers started clocking up rapidly. In less than a week, more than 1.5 million people had viewed the page. And I was told that the 'engagement' factor – the length of time people stay on the page – had broken all records for anything the BBC has ever put online.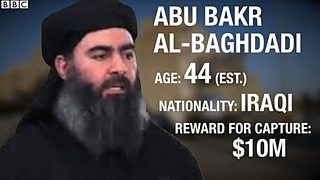 An explainer video on how Islamic State is run is part of the feature
It's hard to imagine a contrast starker than that between the magnitude of the response and the manic solitude of composition.
For the media bosses at the BBC, it was a bit of an experiment, and the result a bit of an eye-opener. It seems that, despite the alleged dumbing-down of the press and the supremacy of the 140-character tweet, there is a market out there for long reads on serious subjects. In fact the two things went together, as the link was widely tweeted and retweeted.
After all the head-banging I'd put myself through, the result was obviously gratifying. But equally impressive and encouraging was the fact that the BBC had commissioned and put the thing out there in the first place, and cleared the space for me to do it.
Islamic State group: The full story
Principles of good writing: Allan Little
Blogs on long form writing by Hugh Levinson