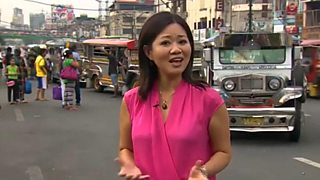 Linda Yueh reporting from Manila for Talking Business
In the first of a series of posts on what it takes to be a specialist reporter or correspondent, Linda Yueh says perseverance is as important as expert knowledge in staying ahead of the field:
How do you keep across your patch year-round, get scoops in a crowded market, give yourself an original edge, set as well as follow the agenda?
The answer is it's not easy. In terms of my beat, business journalists can access a wealth of information from those who track financial markets. I'm referring to market analysts and data providers like Bloomberg and Thomson Reuters which stay across data releases and track trends.
Unlike before, we don't have to rely on pricey subscriptions. Social media such as Twitter give real-time news and data if you know who to follow. When I tell people that the information is out there, they often tell me there's too much and it's hard to make sense of it all. And that's where we come in. As specialist journalists our job is to place the news and data into context and help convey what it means to people's lives.
The digital reality is that getting scoops is even more challenging because it's easier than ever to start a news outfit online, so it's a crowded and competitive market. The relationships and contacts that have always been needed to get exclusives are the same, but it's also important to get the information out quickly on air and online.
Of course the scoop needs to be packaged, but it's also about breaking news via as many media as possible. For instance, when I revealed that Thailand's military junta was not going to hold elections in 2015 as promised, it was 'quickfired' as breaking news on air and on social media. The competition, including the wires, then scrambled as my package aired and led World News.
The challenge of having a global beat is maintaining the necessary relationships when geography is an issue, as is limited time. But, just as it would be with a national or regional patch, it's about focusing your time and effort on the key newsmakers.
I'm not alone in aiming to get to those influential people who do not usually speak to the media. For instance, in my field the biggest prize is probably Huawei. It is the world's biggest telecommunications company but viewed as secretive. The Chinese firm supplies essential telecoms structure to most of the world, including the UK, but is banned from government work in the US due to national security concerns.
Despite being one of the biggest global companies, Huawei is media shy. So we worked hard on getting to know the company and, after much effort, secured the first broadcast interview with one of its rotating CEOs and gained unprecedented access to film at its research facilities. I've also secured the first interview with its mysterious founder, Ren Zhengfei, so watch out for my report from Davos later this month.
So that's how I have tried to differentiate my work and hopefully help shape the editorial agenda. My remit is to bring more global business, notably in under-reported Asia, to our main news coverage. And the way to do that is to find stories that have a global impact and can be seen to affect ordinary people's lives.
Keeping that in mind helps me to select stories to pursue, as there is so much potential news out there. Working closely with news and programme editors, we business journalists discuss our coverage ambitions, and in my case where I can add value with my specialist knowledge in business, economics and finance.
Finally, keeping up with your subject is crucial, because that ability to help an audience make sense of often complex stories, especially breaking news, depends on the depth of knowledge and experience you can bring. Ultimately, that's what can set you apart from the crowd. And in today's crowded media landscape maintaining an authoritative edge matters more than ever.
How to report business and the economy