Watching the dreadful news from Brussels and Lahore unfold across social media reminded me yet again just how much the news process has changed in the last 10 years.
Sitting in the BBC newsroom on the morning of 7 July, 2005 we watched with horror as the first images of the London bombings were sent in via email. It dawned on us then that the audience knew more than we did and things would never be the same.
Photos like this, (sent to BBC News by Alexander Chadwick) captured the moment and changed everything but back then it was so slow. With the birth of Twitter, of course, news distribution became instantaneous and brought with it a whole host of other new problems.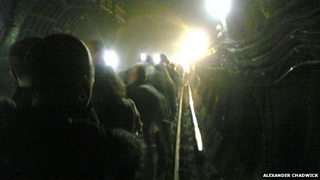 The need to share and crucially to verify real-time information is critical and while we journalists talk a lot about social networks and messaging apps being invaluable tools in the newsgathering discovery process, we rarely focus on the newsgathering teams themselves and how they communicate in a crisis.
For many journalists email is still one of the primary ways they share breaking news but others, often the smaller more nimble teams, are testing newer tools.
Back in January I was in Singapore running some social media training for newspaper journalists and spent an extra day with the BBC team in their office. Half way through my first training session, news broke that there had been bombings in Jakarta. For a tiny team dispersed across the Asia Pacific region it was all hands on deck, including mine.
As the well-oiled machine swung into gear and everyone got on with their jobs, I scoured social media for eyewitnesses. The professionalism of the team was normal to me - just like the old days working on a breaking story - but what really surprised me was how the team used WhatsApp to communicate.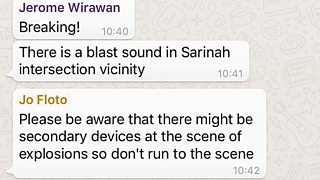 "It's something we've been using for major deployments for some time now." says Singapore bureau editor Liz Corbin. "It is superb for information sharing and crucially for team morale. I am repeatedly struck by how vital it is in terms of getting a story right and quickly."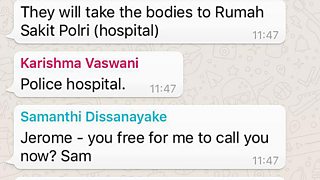 The chaos of a big breaking story was filtered and controlled by the team sharing and verifying information as they got it. Facts were checked, visuals verified and there was a real sense of a hugely supportive team working together. As horrific pictures emerged the journalists were warned to be ready, which is crucial in helping prevent vicarious trauma.
It was a casebook study in how to use modern technology to break news and build your team. So, could it work in yours?
It sounds obvious but before you start, you need to make sure that everyone is happy to share their number, has downloaded WhatsApp and knows how to use it.
Here's the drill from then on:
When a big story breaks, the editor/social media producer sets up a WhatsApp group and nominates any other group admins (who could therefore also add others if they need to)
Start adding the whole deployed team - correspondent/producer/crew/fixer/translator/editors back at base/programme teams
Add a senior editorial figure to oversee/add input where needed
Start sharing but try not to overuse it. Everyone will see everything, but you can still message members directly rather than the whole group.
It goes without saying that if you're sharing sensitive content, it is essential that you issue a warning first so that people can be emotionally prepared.