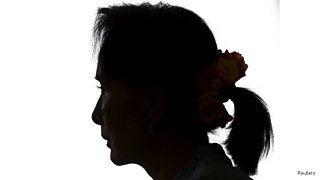 Aung San Suu Kyi
Myanmar is holding a general election on 8 November. It's seen by many as another step towards full democracy, with some analysts claiming it will be the most free election in the country for 25 years. Aung San Suu Kyi's National League for Democracy (NLD) party is predicted to win a sizeable chunk of the 664 legislative seats.
"How shall we cover this big event?" "What can we include in our online offer?" Such questions started to be raised on the fifth floor of New Broadcasting House, where BBC Languages are based, many months back. "How about making a Burmese edition of the BBC Democracy Glossary?" was one suggestion.
This seemingly innocuous question set off a chain of events and endeavours, both technical and editorial, to ensure that this rich resource was made available for the Burmese audience.
'Rich' is definitely the word, since the glossary contains around 300 terms, each leading to an online article giving a simple explanation of the concept, procedure or institution concerned.
'Daunting' is another word that comes to mind: the process of producing the Burmese version of the glossary involved translation, inputting into iSite (our CMS), vetting and publishing each and all the pieces.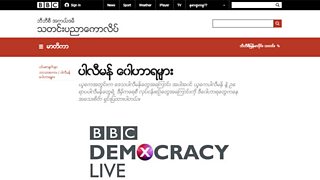 The Burmese glossary
A big headache was how to construct the massive index page in such a way that it is user friendly and displays responsively - correctly on both desktop and mobile devices. Last but not least was the problem of how to ensure that the Burmese font displays properly. Burmese is one of the few languages that can still cause display problems on internet browsers and end up showing as little squares.
When the decision was made a year ago to host the glossary on the BBC Burmese Academy site, the cogs of production started turning, albeit extremely slowly at times.
On the translation front, there are terms and concepts not yet in common use in Burmese. How do you translate them from English in a way that users can easily understand them? Some of the terms which required extra thought on the part of the BBC Burmese colleagues include: 'colourful weeks', 'hybrid bills' and 'quaestors'.
On the production and technical fronts, there was the question of whether our content management system would be able to handle such a big volume of content and display it properly, regardless of the format of the device being used.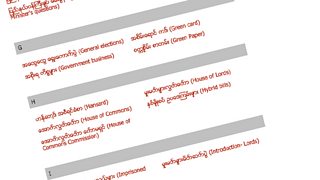 Spring came, summer went and leaves started turning yellow once again.
Election day was looming and, needless to say, the question of 'have we got all the text translated and vetted?' came up time and again. Enquiries about 'how many days can so-and-so work on the glossary this week?' were heard on numerous occasions.
In the end, through sheer dedication, cooperation and ingenuity, the glossary took shape and turned into a product of pride. Sample pages were shown to visiting Members of Parliament from Myanmar and progress was reported to various bodies, bringing back keen interest and positive feedback.
So after publishing 300 articles and a total of over 45,000 words, and having seen the final product on my computer and mobile phone, I can finally say that, yes, all the worries and frustrations were worth it.