Just in case you've forgotten what a glorious country we live in, there's no better way to become reacquainted with the beauty of Britain than a Summer ride on one of the UK's many scenic bus routes. There's nobody that knows this better than Steve Gibbs, a determined fundraiser from Wigston currently in the midst of an epic fundraising journey across the UK.
Powered on by his pacemaker, 74-year-old Steve is currently en route from Land's End to John O' Groats and back again - all by bus! That's a two week journey covering over 2000 miles, on 66 buses - and it's all for free with a bus pass! With a huge £5,000 fundraising target, Steve's determined to prove himself a Hero, and we're certain he's going to succeed.
The challenge is now well underway – Steve arrives back at Land's End on Sunday 17 August. We were lucky enough to catch up with Steve shortly before he caught his first bus to ask him some questions:
BBC CiN: Hi Steve, can you tell us a little bit about your challenge?
Steve: The aim is to travel from Land's End to John O'Groats and return using only local bus services and concessionary bus passes or sponsored tickets, so basically for free. It has been done before but to make it different this time we're including the crossing and tour of Ronald's way in the Orkneys which will make it much longer - and unique!
The other special part of the trip is that, at 75 on my next Birthday, I will be the oldest person to do it and the first powered by a pacemaker!
BBC CiN: Sounds great! How did you come up with the idea?
Steve: The idea came to me in December last year after a very vivid dream one night.  In the morning I mentioned this to my wife who just said "well, why not do it then!"
BBC CiN: It's a pretty big challenge – how are you feeling? Nervous? Excited?
Steve: The prospect of catching so many buses is rather daunting but the prize is to pass through so many beautiful parts of the UK and, of course, to cross to the Orkneys, which otherwise would not be possible for me.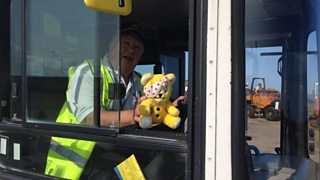 Steve taking the helm at the start of his challenge.
BBC CiN: How have you prepared for the challenge?
Steve: I have some fantastic sponsors including the medical company who made my pacemaker, bus companies, work-wear suppliers, not to forget friends and family along the route who are putting me up overnight in Exeter and Derby - or my long suffering wife! I do intend to use this challenge to meet people and to recognise especially the part that the bus drivers will be playing to get me there and back.  I hope that they will all have a photograph with Pudsey who will be with me all the way and give me some interviews.
BBC CiN: You're going to be on a lot of buses – how are you going to keep yourself entertained?
Steve: There must be so many interesting people to meet during such an epic journey, so most of my time will be spent talking and finding stories to tell afterwards. I hope that Pudsey will oil the wheels and get drivers and passengers to reveal all. I will also be accompanied on some legs by family and friends so I won't be a "Lone Ranger" all of the time.
BBC CiN: We hear you're taking Pudsey along with you - what part of the challenge do you think Pudsey will enjoy most?
Steve: The best thing for Pudsey will be at the end when he can hand over the money so that the children he loves so much can be made happier.
BBC CiN: Why did you choose BBC Children in Need?
Steve: We chose BBC Children in Need as our beneficiary as wherever we are in UK, people will be happy to give knowing that somewhere in their region children are benefitting from their contributions.
BBC CiN: How can people keep updated with your challenge?
Steve: If anyone wants to see our progress we will be updating our website during the travelling with photographs and comments.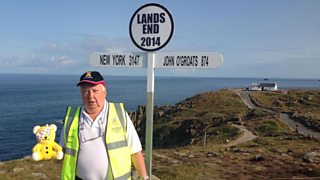 The brave and defiant Steve setting off at Land's End.
If you want to find out more about Steve's challenge, you can visit his JustGiving page, or take a look at his website and facebook page. And don't forget to follow BBC Children in Need on Facebook and Twitter too, for regular updates about all our heroic fundraisers!