While 10-year-old George was wandering around CarFest last year, he decided to do two very important things - raise money for BBC Children in Need and hold his own mini festival.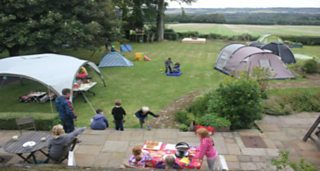 Campfest
A year later, George's dreams became reality - he combined the two to welcome over 40 people to 'Campfest 2014', a fundraising festival he'd created in his own back garden!
 "I gave him a budget of £100 to spend on anything related to the event," says mum Carol, who helped George with his 'big idea'. "Food, drink, prizes: everything." 
George used the funds wisely and spent months organising the summer festival – planning the entertainment, getting a stage built and devising a menu plan for the weekend.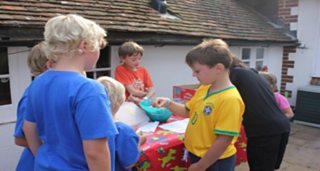 George
No detail was overlooked. "He even ordered wristbands and sent them out with the invites to our family and friends," says Carol.
George was determined to raise as much money as possible and make it fun too, proving himself to be a true BBC Children in Need Hero. 
And in doing so he gave his family, friends and local community in Kent the opportunity to fundraise too - right on their own doorsteps! 
Guests who pitched their tents in the back garden for the August festival were treated to a talent show, a dance-off, karaoke, a treasure hunt, waterslide and much more - all thanks to George. 
"He organised entertainment for the children for the whole weekend," says Carol. Campfest 2014 raised £358.87 for BBC Children in Need, but his hero duties aren't over yet: he's busy planning Campfest 2015!
No matter how big or small your idea, fundraising for us makes you a true Hero.Sign up to the brand new BBC Children in Need Fundraising Hero Hub to access lots of tips on how to raise money for Appeal 2014.