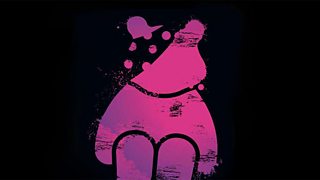 Our new groovy pink 'keyline' Pudsey logo
Hi everyone, and a very warm welcome to the brand new BBC Children in Need website! It's been quite a few years since the last time the website was revamped, so everyone here at Pudsey Towers in London thought it was high time we gave the site a fresh new look!

We really hope you like the new site. We've put a lot of work into trying to make everything in the new site a lot easier to find, with a much more simplified navigation and a lot more images to brighten the place up too.

We'll be adding to the site over the coming weeks to give you more fundraising inspiration, tools and downloads than ever before! For grant applicants, we hope you find the new section easier to navigate your way through the forms and advice to make applying for your grant easier.

There's also a few areas (such as our SHOP pages) that we'll be launching over the next few weeks as we find out more about the wonderful products that our Partner organisations will be creating for this year's Appeal.We're hoping that the site should be back to its fully-functioning (yet shiny and new!) best by the start of the Olympics, next Friday the 27th July.
And speaking of shiny and new - you're now reading our first Blog Post! This is the page to come to if you want to find out everything that's new in the world of BBC Children in Need. On these pages, we'll keep you updated with news about the wonderful Projects we're able to support thanks to your generous donations. We'll let you know about the exciting new fundraising events and activities that are planned for this year. And the best thing about it is that because this is a Blog, you can leave comments and messages for us and we'll do our best to answer them!

It's important that we let you know just how much your support is making a difference right on your doorstep, so please visit the "Who You Help" section of our Fundraising section to meet some of the children we've helped in YOUR region.

We hope you stick with us over this exciting summer and join us this Autumn for the greatest BBC Children in Need fundraising campaign ever!