Pudsey Bear has been to visit Worcester Snoezelen, a multi-sensory centre for children with severe learning disabilities supported by BBC Children in Need.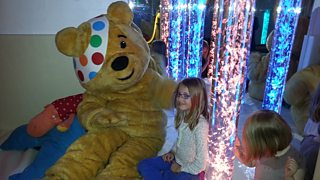 People who have learning disabilities can find the world a confusing and threatening place. The Snoezelen gives them an environment they can explore through sight, hearing, smell or touch.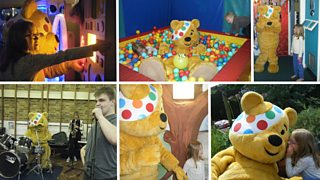 Pudsey was given a tour of the centre by Rowan and got involved in the interactive sensory room, ball pool, sensory garden and even joined in with the band on drums!
The word snoezelen is a contraction of the Dutch words for sniffing and dozing and is used to describe any multi-sensory room. With so much to stimulate the senses, the centre is enjoyed by more than 400 visitors a week, and greatly enhances their quality of life. Often children with severe learning disabilities are unable to go out and enjoy the activities that other children their ages get up to. So the Snoezelen is an amazing place that they can come, have fun, meet new friends or just relax.
To find out more about the difference your money makes, visit our Who You Help section.