Pudsey got into the spirit of the Olympic Torch relay yesterday (Thursday 26th July), as the Olympic Flame travelled to the BBC's offices at White City in West London - which also happen to be the HQ of BBC Children in Need!
Pudsey joined the thousands of people lining Wood Lane, all of them cheering and waving as the Torch passed by. Try and see if you can spot Pudsey as he was caught by the BBC's TorchCam. Click here to watch the video - click the 'Afternoon' tab and slide the marker to about 15:26. If you spot Pudsey, let us know in the comments below!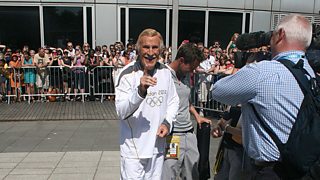 Sir Bruce Forsyth
Pudsey was even more excited when he watched Sir Bruce Forsyth taking over the Torch Relay - as you all know, Pudsey loves dancing and Sir Bruce is an old friend of his from all of the special BBC Children in Need editions of Strictly Come Dancing!
Finally, Pudsey got to meet one of the BBC's torchbearers - news producer Stuart Hughes, who was injured by a landmine whilst working in Iraq.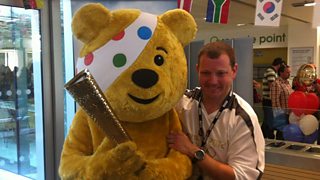 Pudsey with Stuart Hughes
It was such an exciting day for Pudsey, and for the whole of the BBC Children in Need team here in London. Everyone certainly earned a nice cool glass of orange squash after standing out in the 30c heat waiting for the torch to come past!
Stay tuned for another update on our News Blog later today, about a group of children helped by YOUR money who are playing a very important part in a certain Ceremony that's happening tonight...