It's nearly Christmas, and of course that means that it's nearly New Year! As we keep moving ever closer to what promises to be a very exciting 2014, we can't help but take the opportunity to have a few little glances back at some of the great stuff that happened over the past year. There's been some true heroes this year, so let's take a look!
First up, a belated thank you to staff and pupils from Keir Hardie Memorial Primary & Nursery Class in Newarthill who raised a very heroic £370 in November by coming to school in their pyjamas! They may have been wearing pyjamas and onesies, but there weren't any sleepy faces in class as the whole school celebrated BBC Children in Need and really got in the fundraising spirit.
Daniel, from the Woking branch of Natwest, got in touch to proudly tell us about his team's fundraising accomplishments. Having an Pudsey-themed cake sale, the team really managed to 'raise the dough', bringing in a whopping £839.19. They must have been some pretty epic cakes! Daniel wants us to say a huge thanks to his team, and a huge thank you to his customers who helped to make the day such a huge success through their generosity. A huge well done to everyone on the team from us, you've raised a huge amount of money that will make a real difference to disadvantaged children and young people all over the UK.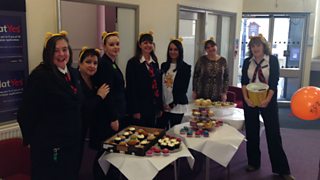 The team at Natwest in Woking flex their baking muscles and bring in the money!

Francesca from Countrywide Corporate in Bracknell asked us to give a shout out to her colleagues, who organised a teddy bear's pyjama-picnic and raised £721.24! We couldn't resist giving the team a little mention when we saw the photo, which is not only full of keen fundraisers, but also has some surprise celebrity appearances from Marilyn Monroe, Cinderella and Bruce Springsteen (albeit on a t-shirt). The team look great in their Pudsey ears and we hope you're all very proud of your ace fundraising!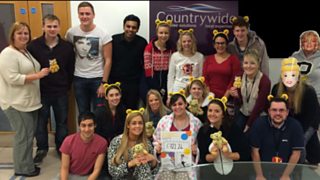 Countrywide Corporate in Bracknell had a great time fundraising.
Another big thank you is due to Brian Atkins and his Alaskan Malamute dog, Shadow. The fundraising pair took to the streets of Leamington Spa in the hopes of raising some money for Pudsey, and they did very well indeed, collecting £300 on one day alone! As Brian himself admits, it's shadow that does most of the work – he has people lining up to give a small donation to stroke him, pat him and play with him. That's our kind of dog! At BBC Children in Need we've already got one animal mascot (the irreplaceable Pudsey), but if the big yellow Bear ever wants to take a break from the spotlight, we might give Shadow a call to keep the fundraising on track!
A couple of final shout-outs before we go – a big Pudsey high-five to Cradlehall Primary School in Inverness, who had a 'bad hair day' and a visit from Pudsey, and raised a £414.13, and another huge well done to Loretto Junior School staff who recorded a staff charity CD to sell to staff, pupils and parents, and raised nearly £1000! Both a great examples of terrific, fun and inventive fundraising!
We still want to hear your stories! To get in touch and tell us about all your fundraising, simply email your local address on this page, and tag us @BBCCiN on Twitter and Instagram or @Pudsey Bear on Facebook. It's easy. So go, help us celebrate your decision to #BeAHero!