On August 1 2014, an all-star football team led by veteran fundraiser Barry Donegan will be embarking on a very unusual challenge. The team will be playing 5 football games… in 5 nations… within a 48 hour time period! It's all part of The 5 Nations 48 Challenge, the brainchild of Barry and his friend David, all in aid of BBC Children in Need! It's not going to be easy, but if they succeed, they could even end up with a Guinness World Record!
However, these aren't just any football teams – professional footballers and stars from the nation's favourite soaps are all giving up their time to make the challenge work! Ex-footballers such as Lee Sharpe and Gary Bennett (just two of many) will be taking on soap luminaries such as Nick Pickard and Alan Halsall, all to have a bit of fun and raise a bit of cash.
The Route
It all starts at 6pm on August 1 2014. The first game will be played at Gretna Football club in Scotland. The team will be facing a strong side made up of ex-Carlisle United players.
After this dramatic start the team will then cross the water over to Northern Ireland for their next game at 10am the next morning, taking on a team including Jim Magilton and Stephen Robinson.
A whirlwind day then sees the (by now probably quite tired) team travelling south into Ireland to face off against a team headed by Boyzone's Keith Duffy. Kick off starts at 5pm at Peamount United Football Ground. Keith's put together an all-star team of ex-footballer and celebrities, so this should be a great game to see.
The following morning finds the journeying back over the water to Wales for a challenging game against Pen-y-cae FC, with a kick off at 10am at Pen-y-cae FC's ground.
The fifth and final game pitts a tired but determined team against the 'TV Select; team at Nantwich Town Football Club at 2.30pm. This game matches our charity team against a squad made of players from popular TV soaps. Some of the names confirmed include Danny Miller from Emmerdale, Nick Pickard and Nico Mirallegro from Hollyoaks , Jamie Lomas from Eastenders, and TV favourite Ralph Little.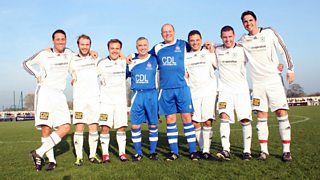 A photo from Barry's previous star-laden football tournament!
Fancy getting involved, or simply feel like watching the beautiful game? You can help Barry and the gang reach their £20,000 fundraising target just by attending a game at the locations above - all of the games look set to be good fun! Alternatively you can donate a little something to Barry and the boys - you can find their donation page here. Of course, every penny they raise will go towards helping children and young people right here, in the UK. Good luck Barry, and a big thank you from everyone here at Pudsey HQ!