As adults, we know that things don't always go to plan, and sometimes we have to deal with the unexpected. In these situations, the support and kindness of others can make a real difference to everyday life. Helen & Douglas House is a very special children's hospice in Oxford that offers this support and kindness at times like these, when families need it most.
Helen House was the world's first children's hospice and Douglas House was set up in 2004 to provide the same care to young adults with life-limiting conditions, as well as their families. They offer specialist symptom and pain management, medically-supported short breaks and end-of-life care, as well as counselling and practical support for the whole family.
We'd like to tell you about Evie and Thomas, two very special children helped by Helen & Douglas House.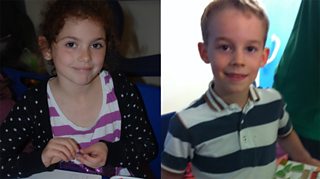 Evie and Thomas
Thomas's story
Thomas is eight, and lives with his mum, dad and older brother Morgan. Morgan is 10, and has a very rare condition called Dravet Syndrome, which only affects 150 people in the UK. It means that Morgan has regular seizures, often in his sleep. When he was four, a particularly serious set of seizures caused him to lose all the abilities he'd learnt as a young child. He's since begun to move and walk again, but he still can't communicate very well. He has no awareness of speed or danger and so he gets about in a wheelchair to keep him safe. Morgan needs a lot of care, and parents Michele and Robert have to be very watchful.
Thomas cares deeply for Morgan. He knows how to give Morgan his oxygen, how to call for an ambulance and what it means to have a seizure. Thomas knows that sometimes he can't spend as much time with his parents as he'd like. This means that he has had less time to do the things children his age want to do, but he's very grown up, and he understands why.
Helen House gives Morgan 14 nights respite care a year, allowing Thomas valuable time with his parents.  They also run residential breaks for the siblings of children being cared for at the hospice and that's where he met Evie and made other new friends in similar circumstances.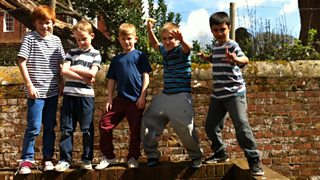 Thomas and his new friends.
Thomas' mum Michele was initially wary about seeking support from a hospice, but a visit to Helen House soon changed her mind:
"The word hospice made me apprehensive so it took a year for me to visit, but we watched a DVD about the place and it made me think again. When I went there and saw the children smiling and laughing, I realised that this is the sort of place where anything goes. I vividly remember seeing this one little girl who wanted to dress up as a fairy but she couldn't because she was in a wheelchair so the costume wouldn't fit her properly. So the male nurse made her a fairy costume by cutting up something else that was in the dressing up box. It was brilliant. She was able to be a fairy after all.
Where's there's normally a 'no' from a parent to a child or a 'we'll do it tomorrow', at Helen House they just do it. And siblings in particular get a lot of 'no, we can't because your brother can't do it' so it's great for Thomas."
Evie's story
Evie's also eight, and lives with her mum, dad and older sister Mabel. She loves music (she's particularly fond of a certain boy band!), making things and playing with friends. But recently, she and her family have been through a difficult time after her youngest sister Beatrice, just a year old, died.
When Evie's mum, Elizabeth, was pregnant, everything seemed fine. When Beatrice was born, however, medical staff soon realised that her brain hadn't formed properly, and because of this she was partially deaf and blind. Doctors struggled to diagnose her condition. She had to be fed through a tube and was dependent on oxygen. It was clear that Beatrice would need lots of specialist care.
A little later, doctors told the family about Helen & Douglas House. Elizabeth arranged to visit the house for a brief respite; she planned to stay with Beatrice while Mabel and Evie took part in activities organised by the care team. It was at this time that Beatrice, having always been susceptible to chest infections, caught pneumonia, and passed away. She was just under a year old.
Elizabeth said: "After Beatrice died in hospital, we were able to bring her to Helen House and stay with her for seven days while family and friends came and said their goodbyes. Meanwhile, the staff were doing things like our laundry and helping us to make funeral arrangements. We were moving house that week as well so it was an incredibly stressful time. But the care from the staff at Helen House was just amazing. It made saying goodbye a lot more humane and bearable in an unbearable situation."
Beatrice's passing had a big effect on Evie and Mabel. The girls had been so excited at the thought of having a little sister to look after, but ended up dealing with something completely different. They both took up the offer of counselling from a support worker, Laura, at Helen House. Laura worked with the girls once a week at their school, also giving them one-to-one support. Mabel and Evie also joined the Elephant Club, a support group for siblings at Helen House. The friends they've made there have been an important part of the grieving process for the girls.
Elizabeth told us: "One day, the girls came home from Elephant Club and said to me 'we met a girl today and she's got a sister in heaven as well.'  It was great for them to see that they are not alone and that they weren't to blame for anything."
A BBC Children in Need grant of £113,000 over three years funds four sibling workers at Helen & Douglas House. For three decades, these hospices have helped children like Evie and Thomas to make sense of their experiences, and to understand that they're not alone. Your money means that whatever happens, children and families in unimaginable situations will always be able to turn to places like Helen & Douglas House.
Follow us on Facebook and Twitter for the latest news from BBC Children in Need