Mr Bloom Here and There: Bannock bread recipe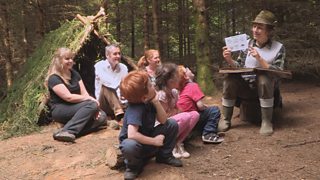 Want to make some Bannock Bread just like Mr Bloom and the Tiddlers in the new series of Mr Bloom: Here and There? Here's the recipe (campfire not required!):
YOU WILL NEED:
450g flour
360ml of water
2 tablespoons of baking powder
1 teaspoon salt
60g butter
150g raisins
olive oil for cooking
flour for dusting


WHAT TO DO (little ones can help with this part):
1.  Before cooking, wash your hands and put an apron on.  Weigh and measure out the ingredients.
 2.  In a clean mixing bowl, add the flour, the baking powder, the salt and the butter.
 3.  Mix the ingredients together, slowly adding the water until you make a dough.
 4.  Add the raisins and mix them into the dough. 
 5.  Now knead the dough for approximately 10 minutes
 6.  Next take some dough and roll it into a ball
 7.  On a clean work mat, gently press the ball to make it into a flat circle about a 1cm thick.
 8.  Lightly dust both sides of the circles with flour.
 A GROWN UP MUST DO THE NEXT BITS:
 9.  Use some olive oil to oil a frying pan.
10. Heat the oil in the pan and once hot, add the dough circles to it.
11. Wiggle the pan every now and then to stop the dough sticking.
12.  Once a crust has formed on the bottom, gently turn the bannock with a clean spatula
13.  Cook for approximately 12 – 15 minutes.
14.  Allow to cool before eating.
Go to the Mr Bloom: Here and There webpage
More
recipe ideas from CBeebies
on BBC Food