CBeebies Stargazing returns for solar eclipse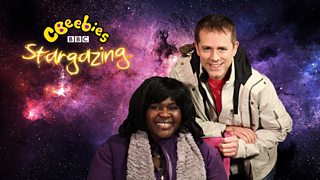 CBeebies Stargazing is back from Monday 16th March at 5.45pm, and this year the series is marking a very exciting event. We talked to presenter and space scientist Dr Maggie Aderin Pocock to find out what our little ones can expect…
Hi Maggie, can you tell us a bit about the new series of CBeebies Stargazing?
In the new series we'll be celebrating the power, the reach and sheer size of the largest object in our solar system, our star - the Sun.
With the help of our young stargazers, and some well known CBeebies stars, Chris and I will be looking at how gigantic the sun is, what it does for us here on Earth, how it helps light things up in the night time, and exploring the phenomenon of the solar eclipse.
We'll be doing lots of exciting experiments in the Stargazing Café, and as if that isn't enough, we'll also have some well-known faces popping up to tell us what they've seen in the night sky – look out for Sir Derek Jacobi and Professor Brian Cox.
Can you tell us about the eclipse that's happening in March during CBeebies Star Week?
I'm ever so excited about this! In March we will experience a solar eclipse – when the moon passes in between the sun and the earth. The moon will partially block the sun, causing its shadow to be cast on the earth.
It is going to happen on Friday 20th March 2015, starting at around 8.40am. Even though it won't be a total solar eclipse (that's where the moon completely covers the sun) it will be pretty close. The 'centre of totality' will be in the Faroe Islands but parts of the UK will see 90% of the sun being covered over.
Excitingly, there's a Stargazing Live Event taking place on the same day at Leicester Racecourse. There will be family-friendly activities for all ages, including my friend Chris Jarvis who is throwing his own eclipse party from 10am until 3pm (entrance is free, but please keep in mind that capacity is extremely limited and these events get really, really busy – admission will be on first-come, first-served basis).
What can parents do to help their children enjoy CBeebies Stargazing?
The great thing about CBeebies Stargazing is that we focus on things that anyone can see in the night sky. Whether it's the moon, satellites, or planets, you can see lots of these things with just your eyes from your own window or back garden.
The activity of stargazing itself is something that is accessible to all of us. You don't need any fancy or expensive equipment to do it.
It would be amazing if grownups could watch CBeebies Stargazing along with their little ones and then go out and look for these things in the night sky.
Pointing out the planet Jupiter or Orion's belt to your child can be a life-changing experience for them.
For me personally, I used to love watching 'The Clangers' when I was young. They really made me want to explore space and encouraged me to look up at our night sky.
So why not wrap up warm and do some stargazing with your family. There will be some star maps and guides on the CBeebies website to help you find different constellations - all you have to do is look up.
Do you have any tips to help families enjoy the eclipse safely?
The eclipse is a truly mesmerising event. As brilliant as it is, though, you must make sure that your children are well prepared.
The most important tip I can give is that you and your little stargazers should never look directly at the sun – sunlight can cause severe, and potentially permanent, damage to our eyes.
When you're watching the eclipse you must wear approved solar eclipse glasses with filtered lenses.
Alternatively, you can use something we all have in our cupboards, a colander! If you get your little ones to hold the colander so that the light shines through the holes onto the ground or onto a piece of paper, you will get dozens of little suns to look at.
When the eclipse is taking place you will see miniature crescents form before your very eyes – it's like seeing multiple eclipses for the price of one!
Are there any activities parents can do with their children to explain the eclipse to them beforehand?
The eclipse can be a tricky thing to explain to young children, so the key is to try and make it fun.
One way to explain it is to play 'Eclipse Musical Bumps'. Use a nice big fluffy cushion as your sun and tell your children that their bottoms are the moon.
Have a bit of a dance, then when you shout ''eclipse'' the children have to sit down on their sun cushions.
It's a fun way to explain an eclipse and you can have a bit of a boogie thrown in at the same time.
You can also use the colander experiment I mentioned earlier before the eclipse itself.
Just use a torch for your sun and a piece of fruit, like an orange or peach, for your moon. Slowly move the piece of fruit in front of the torch and watch your eclipses magically appear through the colander.
Then if your little scientists get hungry, there's nothing like having a piece of 'moon fruit' as part of their 5 a day!
Lots of parents find astronomy quite confusing themselves! Where can we go to find simple explanations of the stars?
Astronomy can be very tricky, so the first thing is don't worry because you definitely aren't alone. I don't know a space scientist who hasn't been muddled at times.
The first thing I would suggest is to watch CBeebies Stargazing together as a family – there's nothing better than learning along with your little ones. They may even surprise you with how much they already know.
You can also go onto the CBeebies Stargazing website where you can find our Star Maps and spotters' guides. These can help you in your search for stars and their constellations.
I hope you and your little stargazers enjoy the new series. Wrap up warm and go and look up at our night sky with your children.
You never know, our future scientists, and space explorers may well be standing right next to you.
More to explore:

Visit the CBeebies Stargazing website
Explore space with CBeebies
Download CBeebies star maps to guide you around the night sky
Get involved with BBC Two's Stargazing Live