Mouse and Mole at Christmas Time
We're looking forward to a very special festive treat next week with the one-off animated tale of Mouse and Mole at Christmas Time, which features performances from some of the country's best-loved actors. We caught up with executive producer Ali to hear all about how the programme has been brought to your screens...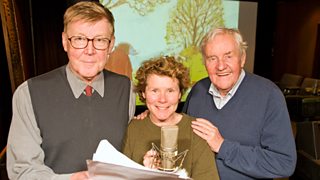 Can you tell us a bit about Mouse and Mole at Christmas Time? 
Mouse and Mole live together in a cottage in the country. Mouse is practical and cheerful while Mole is always getting himself into trouble, and needs looking after. In this Christmas episode, Mouse makes a Snowmole for his friend. Mole dreams that his Snowmole comes to life and takes him to a land where his every wish will be granted – whereupon Mole learns that you have to be careful what you wish for! The show ends with a riotous Twelfth Night Party thrown by Mouse and Mole for all their friends.

Where did the idea to make the programme come from? 
The story of Mouse and Mole began as long ago as 1993, with four picture books that were written by Joyce Dunbar and illustrated by James Mayhew.  TV producer Joy Whitby (who created the iconic series Play School for the BBC) adapted the stories and commissioned the award-winning Alison de Vere to animate them as five minute TV shows. 19 episodes were produced, and voiceovers for 7 more episodes (including this Christmas special) were recorded in 1997 – but none of those episodes were actually produced…until now!

There's a pretty stellar voice-over cast, isn't there? How did that come about?
Richard Briers was an obvious choice for the voice of Mouse. Stephen Fry was originally going to play Mole, but had to withdraw at the last moment, to be replaced by Alan Bennett (although Alan always said that if Stephen were able to take part after all, he would step down!) Imelda Staunton then agreed to play the part of the meddling Shrew. In Mouse and Mole at Christmas Time, the three actors play a grand total of 14 characters between them!  

What do you hope children will enjoy about the show?
The original series was popular with children and adults alike. I think the charm of the programmes lies in the close friendship of the two central characters and the gentle humour of the stories. The pace of the Christmas special may be gentler than many programmes watched by children today, but there's classic feel to the show and a warmth that we hope will appeal to families watching together at Christmas time.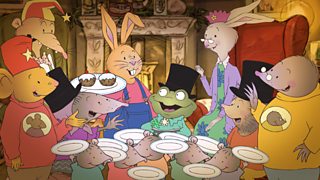 What's your favourite thing about Mouse and Mole?
I love the relationship that Richard Briers and Alan Bennett created in their performances – there's a real sense of friendship there. This was one of Richard Briers' later recordings and, sadly, he will not be with us to celebrate as the show finally comes to screen. But Mouse and Mole at Christmas Time will be a tribute to Richard's enormous talent, as well as that of the other brilliant actors who brought this show to life.

Mouse and Mole at Christmas Time is on CBeebies on Monday 16th December at 4.45pm