Get to know CBeebies' new presenter: Cat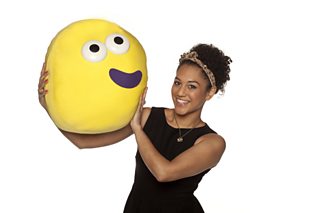 You might spot a new face in the CBeebies house this week, as presenter Cat joins the team for the first time. We caught up with Cat on her first day to find out more about her…
Hi Cat, can you tell us a little bit about yourself?
Hello there! Well, I was born and raised in south east London, and both my parents are from the lovely little island of Mauritius. I started taking dance classes when I was very young and now I'm a trained dancer and musical theatre performer – as well as being a TV presenter.  If you've got older children you may recognise me from my days on Hi5, and if you've ever travelled to Africa you might have seen me presenting CBeebies Africa, along with Sid.
So you started performing at a young age…what are your earliest memories of being onstage?
I took part in lots of dance exams and competitions as a child – I can remember that one of my dances was about the princess and the frog prince – my auntie had made my princess dress and my cousin created an amazing toadstool for the performance. I can recall feeling really nervous as I stepped onto the big stage for my moment in the spotlight. As soon as the curtains opened and the audience saw me, they all said 'aaaaaaah' – that took me completely by surprise and I was quite overwhelmed, so I ran off! I did build up the courage to go back on stage and the audience cheered when they saw me, so I did really well in the end!
What do you like to do when you're not working?
As you may have guessed, I love dancing, singing and acting – but I also love to read and study new subjects. By the end of 2013 I'd like to have learned basic drums and keys, and brush up on my French and Spanish. I've really got the travel bug too and there are so many places I'd love to visit – and I'm bit of a fitness enthusiast. 
What are you most looking forward to about joining the CBeebies team?
I can't wait to get out and meet the CBeebies audience – they are the reason why I do what I do and just one child's smile is enough to keep me going! I've been teaching dance and working with children for many years and I find it really rewarding to see them develop and learn, whilst having fun of course.
I'm just so excited to be part of the CBeebies family. There are lots of little ones in my family, so I've sat and watched all the shows for hours, joining in and singing along – I'm over the moon to actually be part of such an amazing team!