The Furchester Hotel premiere: Q&A with the Furchesters and the performers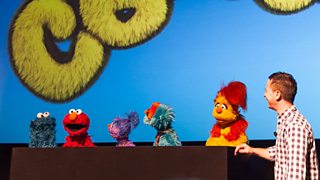 Photograph by David Jensen
The Furchester family, along with transatlantic visitors Elmo and Cookie Monster and a whole team of The Furchester Hotel performers were in London's West End this weekend to show The Furchester Hotel to some very special guests. Our very own Alex Winters was on hand to host an in-depth question and answer session with the Furchester team – covering everything from the finer points of Anglo-American biscuit culture to the legacy of Jim Henson, and the likelihood of Alex sharing his Furchester room with a giant squid…
Read on to share the fun – but be warned, it gets emotional!
The Furchester Hotel starts on CBeebies on Friday 26th September at 5pm.
Alex Winters: Have you enjoyed the morning?
Elmo: NO! Only kidding, of course we have!
Alex: How have you enjoyed coming to Britain to visit The Furchester Hotel, Elmo and Cookie Monster?
Elmo: It was lots of fun, I got to meet Phoebe, and we became very close, we're very tight now. And Elmo learned a lot.
Cookie Monster: Me happy just to get the invitation!
AW: How do the cookies compare to American cookies?
Cookie Monster: A terrific question! They…pretty much equal!
Elmo: But then there's the whole, like, biscuit culture…
Cookie Monster: Yeah, you know, me not have to change me name to Biscuit Monster…that a good thing! Actually not bad though, Biscuit Monster!
Elmo: Biscuits are great.
Alex: Have you tried malted milk?
Cookie Monster: Of course! And digestives, me love 'em!
Alex: Dip them in hot chocolate, that's my new thing.
Cookie Monster: Oooooooh! Me have some in lobby?
Elmo: That's a good tip!
Questions from the floor:
Q1: Does Elmo like cookies?
Elmo: Good question!
Cookie Monster: Me love that question!
Elmo: Elmo loves cookies a lot, but not as much as this one over here [Cookie Monster, of course!]. Oh boy, well, I like a snickerdoodle – do you guys have snickerdoodles? Oh, then this is a learning moment, okay…so a snickerdoodle is sort of like a sugar cookie, with butter…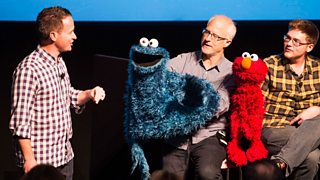 Photograph by David Jensen
Q2: My name's Ruby. Does the blue one [Furgus] like cookies?
Cookie Monster: Hard-hitting question!
Furgus Fuzz: I'm partial to shortbread myself. Or ginger biscuits.
Alex: Mmm, a Scottish biscuit!
Funella Furchester: Ginger biscuits are lovely dunked in milk.
Q2: Who's been your naughtiest and untidiest guest?
Funella: We have so many guests!
All: Super Rock, he was very naughty!
Funella: No, he was super…Super Rock was super.
Phoebe Furchester-Fuzz: Some of the chickens can be quite naughty…
Furgus: Ooh, howling wolves in the middle of the night!
Funella: Yes, that was a problem, we had some wolves staying and they kept all the other guests awake with their howling. That was a really big problem.
Phoebe: It was a catastrophe.
Q3: I'm Samuel. Does Cookie Monster eat any other food than just cookies?
Cookie Monster: Mmmm, very smart question!
Alex: You mean, does he have his five a day?
Cookie Monster: Oh, me do! Me not ONLY eat cookies. Me like fruit and vegetables, me like meeeeat and veg, me like bicycle…me eat the canoe once….me not picky eater. But me LOVE cookies!
Alex: Are you sure, Cookie Monster, because we only ever see you eat cookies…?
Elmo: Elmo has seen him eat a Boeing 707 before. He was not messing around.
Q4: Will there be any special guests in this series?
Funella: Well, we've had an alligator…
Furgus: A porcupine!
Funella: Yes, and a porcupine. They're all special, every guest at The Furchester Hotel is special.
Q5: My name is Maya. What's Elmo's favourite colour?
Elmo: You're looking at it, baby! Elmo loves red, but Elmo likes blue too. That's like his second choice. Yeah, and purple's good. Orange is fine…Green, mmm, I would probably go with red, blue, green, purple, orange, chartreuse, mauve…
Alex: Elmo's going to carry on naming all the colours….
Elmo: BEIGE!
Q6: Can I come and stay at The Furchester Hotel?
Funella: Oooh, that is the nicest thing anyone's said. A lot of people don't come back…but that is so nice of you! We'd love to have you!
Alex: Are you sure you want to go and stay at The Furchester Hotel?
Elmo: We have a bowling alley. Just saying!
Phoebe: We have a skate park!
Q7: How much would it cost me for a family of four, so, two adults, two children, and where I could get some special room rates?
Funella: Well, the thing is, we can't pay you enough really…not for that many…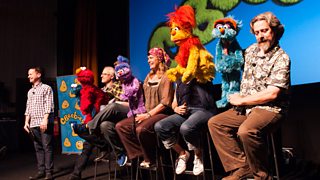 Photograph by David Jensen
Q8 [from Rufus Hound]: The opportunity to ask the performers a question is just too strong! I've grown up thinking that Jim Henson was probably one of the greatest human beings ever to be alive, and I just thought I would take this opportunity to ask the performers whether the, sort of, shadow of what he set up in terms of the Children's Television Workshop is still part of your lives or part of this process – or has that time moved on, are we in a different world now?
Louise Gold (Furnella): His legacy – David (Rudman, Cookie Monster) and I were lucky enough to work with Jim a lot and he was inspirational, he was fantastic – and his love and the feelings we had as a family is through all this stuff, it infects it.
Ryan Dillon (Elmo): I think it's kind of nice that it's the one link that we all have. I never met him, but I think of him every day – it is THE reason I'm doing this. So, it's pretty special. I think we all have that in common.
Louise: All the people who work – the puppeteers, the workshop, everyone shares a bond…
Ryan: That's the cool thing, even if you didn't get to work with him you kind of feel like you did because of that family, there's people who've been there.
Rufus: What was it like actually working with him? What was he like?
David: He was amazing to work with, he was a really good guide, and a really good teacher because he never really told you what to do, he would let you figure it out on your own. He never said 'do it this way', it was always 'how do you feel you should do it?' – which really helped you to learn how to do this. He was a genius. He had an amazing vision too.
Louise: He loved the talent of everyone around him, he so enjoyed everyone's work.
David: Everyone felt free to contribute, no matter who you were on the set – and everyone loved coming to work.
Alex: So, how many grown-ups here feel slightly emotional? I'll only say that here, but I do feel slightly emotional.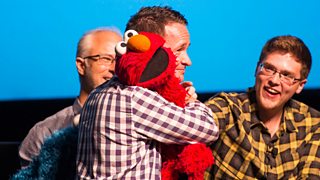 Photo by David Jensen
Elmo: Hug it out, here we go.  [they hug]
Alex: This is my dream!
Elmo: Don't cry, don't cry!
Q9: Do you like The Furchester Hotel, Elmo? Do you think you'll come back to visit again?
Elmo: If they'll have me, sure! Elmo loves it – it's such a fun place. It's very different from Sesame Street, very different, but Elmo's got lots of jobs here, and Elmo learns a lot.
Alex: I'd love to go and stay. Do you do family rooms with a cot bed?
Funella: Everything, we do everything!
Furgus: Anything you want. As long as you'll share with a giant squid, that's the only thing…
Visit The Furchester Hotel web page
See more from The Furchester Hotel premiere on CBeebies YouTube
Are you and your little ones looking forward to The Furchester Hotel opening its doors on CBeebies? Join the conversation on the CBeebies Grown-ups Facebook or Twitter pages.