Wussywat's Clumsy, Clumsy, Clumsy, Clever World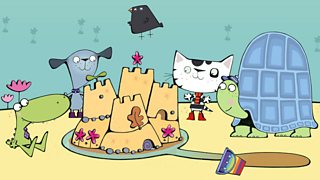 Simon Rolph, creator of Wussywat the Clumsy Cat caught up with CBeebies Grown-Ups ahead of Wussywat's second series on CBeebies.
Wussywat the Clumsy Cat is a pre-school show about a curious cat, a very curious cat with a very clumsy disposition. Much like any 3 to 5 year old then!
To accompany the show's second series, Jen Beaton, Wussywat's social media manager has kindly taken time out of her busy schedule to share her 10 top tips for safe child-led play and learning with help from Wussywat and his Growth Mindset ideals.
In an increasingly test-led, stats-ridden pre-school world, Jen can attest that a 'child-led' philosophy is actually a lot easier than you might think and quite a bit of fun too. As the mother of a 3 and 7 year old, she should know!
1) Watch out for Wussywat's clumsy moments (there's 3 in each story). They contain vital clues for Wussywat (and your little ones) to figure out how he can solve the episode's problem (there's only ever one of those!)
Clumsy + Clumsy + Clumsy = Clever!
2) Embrace these clumsy moments along with your child's curiosity. Encourage the anticipation and the excitement, the have-a-go enthusiasm.
Encouraging a child's interest in a process helps them appreciate and enjoy the journey more.
3) Ask your wee ones how they see Wussywat solving the problem at the end of each episode? Does he work it out for himself? Does he have help from his friends? Or does he engage his friends in the solution?
Wussywat is about teamwork and friendship as much as solving problems.
4) In each episode Wussywat starts out being clumsy and ends up being clever. Ask your little ones why they think Wussywat is a 'clever cat' after all those clumsy moments. What does his 'cleverness' mean in this context? The reality is that he's figured something out through deduction and experience.
In many ways, a child's failure while doing is part of an ongoing process of succeeding.
5) It's a fun quirk of the show that Wussywat will always have three clumsy moments that inform a final clever one. I like to explore times my little ones have clumsy moments and then relate them to what they might have learned.
Familiar learning structures can help children focus on their own choices and help them build confidence in making decisions.
6) Ask yourself, if you left your little ones to tackle a problem or puzzle by themselves, what might happen? Specifically, what might happen to their understanding of that problem? What about your understanding of their learning if you keep yourself out of the picture?
All children instinctively want to learn new things, with or without an adult's input
7) If you have several children, ask yourself how do they work together in a similar situation? What about when they're exploring, creating, problem solving and/or playing together?
Sharing and recognising mistakes can often improve confidence and encourage a willingness to have another go.
8) I find it quite fun comparing the characters in the show to children I know. For example there are a few determined girls on our street that remind me of Ird. Oggy is also a delightfully familiar toddler and my youngest is so Wussywat it's uncanny!
Character recognition enables a child to understand their own potential in relation to others as well as empathise with their limitations.
9) Wussywat is always having fun despite the pickles he often gets into. The slapstick nature of the show offers comedy as a leveler. Ask yourself what made you chuckle today while you were going about normal day-to-day things? What about your children, what makes them laugh?
Humour is a great unifier for learning and helps children appreciate different ways of being.
10) The silly things the characters say to each other is such a mirror of the way our little ones communicate, with us as well as with their friends. The funny words they come up with as they learn new ones are hilarious. Sometimes rude, sometimes profound, I love listening out for the next new 'toddlerism' in our house.
Exploring words and speech patterns is one of the first ways a toddler understands communication can be creative and fun.
Wussywat and his friends Ortus, Duckadile, Ird, and Oggy hang out in the Garden exploring new things with interest, appreciation and openness. Most importantly, they have fun along the way; overseen by an ever-watchful 'nurturing' narrator.
We can help our little ones achieve child-led discovery too by encouraging and enabling them to take ownership of their achievements- however small, however brilliant by allowing them to safely explore an increasingly uncertain world.
"Wossat, Wussywat?" Progress, possibly? Only time will tell…