Wussywat the Clumsy Cat: living, learning and falling over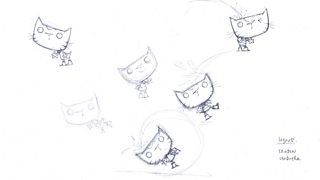 Wussywat the Clumsy Cat arrives on CBeebies from Monday 22nd June 2015 at 9.30am and 1.30pm, bringing his own unique approach to problem-solving to the preschool audience. CBeebies Grown-ups had a chat with co-creators Simon Quinn and Simon Rolph to find out how they brought our new favourite feline to life…
Hello Simons! Can you briefly introduce yourselves and tell us what you do on Wussywat the Clumsy Cat?
Si Q – I'm Simon Quinn, producer and co-creator of the show. I've been working in television since 1988, starting out as a puppet maker. I got the animation bug when, in 1990, I worked on 'Huxley Pig' and then a revival of the 'Wombles' - and I've never looked back. I've worked on many children's shows and always thought I would like to make one myself one day. I met Simon Rolph when I was 17 and we've been friends ever since. We first worked together in 2005 on a programme called 'Hannah's Helpline'.
Si R – And I'm Simon Rolph, writer and co-creator of the show. I've written for a few preschool shows including Igam Ogam, Fun with Claude and Driver Dan's Story Train. Si Q and I had often talked about making a show together. We actually started working on Wussywat the Clumsy Cat round about 2008, I think. When Baby Cow (our production company) got involved a good four years later, I was in Ethiopia working on their first animated series for kids, Abeba & Abebe.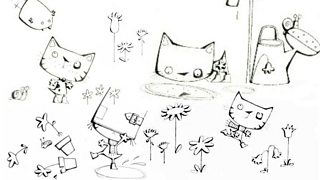 Early black and white artwork
Can you tell us a little bit about Wussywat the Clumsy Cat?
Si R – Wussywat the Clumsy Cat follows the slapstick antics of a curious, clumsy cat as he discovers new and interesting things in 'The Garden'. In each episode he has three clumsy mishaps involving the discovery before finally connecting what he's learned from each clumsy moment to have a clever idea. We devised an equation for it: Clumsy + Clumsy + Clumsy = Clever! The stories in the show focus on Wussywat's have a go attitude and how his friends help him on his journey.
Speaking of his friends, there's Duckadile the squeaky crocodile, Ird the bossy blackbird, Ortus the tongue-tied tortoise and Oggy the excitable doggy. Overseeing all the action is our Narrator (voiced by the lovely Liza Tarbuck). Watchful and ever-present, she helps move proceedings safely along so Wussywat can achieve his light-bulb clever moment at the end of each story.
Si Q – We have a great cast, including Morwenna Banks as Wussywat, Rasmus Hardiker as Duckadile and Oggy, and Marc Wootton as the hilarious Ird and Ortus. We're extremely happy to have Liza Tarbuck as our Narrator. Early on, when we were developing Wussywat the Clumsy Cat, I was listening to her Radio 2 Saturday show and thought she would make a great narrator. She was giggling and laughing with the listeners and I realised that her warm and funny tone would be ideal for Wussywat. That was back in 2009. I have pursued her ever since!
What inspired the series?
Si Q –Wussywat the Clumsy Cat is inspired by my son Tomas. I was at the kitchen sink doing the washing-up one day, watching him play happily in the garden. He must have been about two at the time. He was very taken with a colourful flower and gave it a big sniff, then looked at me and said, "Oh it smells beautiful, dad!" I was really taken aback that he was really exploring his surroundings with all his senses in such a state of wonder. It was quite an emotional moment for me and it was then I knew I wanted to do something creative for him to try and capture that feeling.

Si R – Likewise, I am often quite touched when I witness a child having a go at something new, something they're not really sure about, and actually figuring it out. It brings a tear to my eye every time, especially if it's after several tries. All parents, guardians and teachers, will know this feeling. I'm a sucker for it. When Si Q and I were developing Wussywat the Clumsy Cat it seemed the perfect combination to make our hero at once open to exploration while also willing to have a go at anything that came his way, even if he slipped up a couple of times. That's how the learning from his clumsiness came about.
What about the names for the characters, how did they come about?
Si Q – The name 'Wussywat' comes from my niece not being able to pronounce "pussycat" properly. It always came out as wussywat! His catch phrase "Wossat?" is something my mum used to say to us when we were little; she still says it now to the grandchildren. Tomas had a favourite crocodile bath toy that he used to call 'Duckadile'. It's lovely hearing children learning words and latching on to certain vowels and syllables, working out how to pronounce them. It's a very exciting time for mums and dads. You'll see Wussywat displaying the same confusion with his words on occasion, often when he's excited, but he eventually gets the pronunciation right with the help of his friends.
Si R – Once you get going on funny names it's difficult to stop, it just gets wonderfully silly the more you go with it! 'Ortus', 'Oggy' and 'Ird' are simple shortenings based on funny mispronunciations we'd heard our nieces and nephews use. For the four visiting characters we asked for suggestions from the children and that's how we got our names. 'Eli' is short for Eligator because she's Duckadile's sister and 'Py' is short for a bling-obsessed magpie. 'Egnog' is short for hedgehog, which is what (according to my mum) I used to call them when I was little, and designer Jo Kiddie's son Daniel named the cool ginger cat next door 'Jinja' "because that's what Jinjas are called!"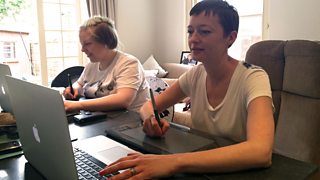 Designers Shelley and Jo at work on the series
What do you hope children will get from watching Wussywat's adventures?
Si R - Our aim with Wussywat is to encourage children not to be afraid to try out new stuff, even if that means failing in the process. It's cool to be curious and keep trying out new things but it's just as important to enjoy the experience and have fun along the way. In the programme, we do this through comedy but we're informed to some degree by Professor Carol Dweck's influential work on Mindset Theory.
Mindset Theory states that from a very early age there are two 'mindsets' in which children learn from experience. With 'Fixed Mindset' a child will stick to doing only what they know because they're afraid of failure, whereas with 'Growth Mindset' a child will actively seek out new experiences without fear of ridicule. Dweck says that having a Fixed Mindset limits your ability to learn or achieve because it limits you to what you already know, while having a Growth Mindset not only encourages learning, it also makes you more likely to want to learn more. Wussywat himself is firmly in the Growth Mindset camp; fully embracing whatever 'The Garden' has to offer him, always ready to welcome a new challenge (if a little clumsily) with open arms and an open mind.
Si Q – We've given our siblings, nephews, nieces and some friends' children sneak peeks of a few episodes of Wussywat the Clumsy Cat, and their feedback has been brilliant. They really get the core message about having a go at new things, never giving up and try, try trying again in order to get something right.
There are lots of opportunities in the show for the audience to join in with Wussywat's adventures. There are some dances, counting routines, walking songs – lots of songs, actually. The music is great, very catchy, and each character has their own theme tune so you know when they're coming on! They've been composed and arranged by our partners at Smiley Guy Studios in Canada, who are also doing the animation. There's a good smattering of 'bops', 'clunks' and 'thwoings' to get the giggle-boxes chuckling and some funny catchphrases to earworm mum and dad too, including Wussywat's quizzical "Wossat?" and Ird's woe-betide "Oooo, you've done it now!"
What do you think grown-ups can take from the show and use with their little ones?
Si Q - I think we don't let children experiment or get mucky as much as we were allowed to when we were growing up. I've actually heard parents telling kids not to make noise in the playground! Not to climb the climbing frame, or to not try something because it looks too difficult! Of course, it's quite natural to be protective of your loved ones, but children should be allowed to test their abilities and not be afraid to fail. Wee ones should be encouraged and praised for the little steps they make, rather than given the impression it's okay to give up straight away. Even if they don't achieve gold stars first time round, it will at least ensure they have a go next time. It's the having a go that's the fun part.
Si R – If you encourage kids to be experimental and push boundaries early on, they will gain confidence and build self-esteem more positively. To this end, if a child sees an adult they trust being unafraid to have a go at something new, without fear of failure, they will likely follow by example. We've found that slapstick humour is a fantastic leveler for driving this message home because it's so universal. Kids love watching people falling over and getting up again. It's funny! Charlie Chaplin, Harold Lloyd, Laurel and Hardy, Mr. Bean, the Chuckle Brothers all have wonderful physical humour at their core and they all have lasting appeal. The only difference with Wussywat is that we're throwing a bit of learning into the mix. It's not quite 'Cat's do the Funniest Things' but it's close!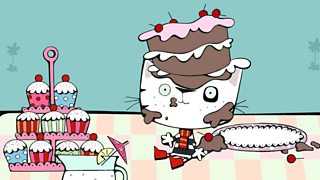 Do you have a favourite moment or a favourite episode from the series?
Si Q – My current favourite episode is "Games". Duckadile playing I-Spy makes me cry with laughter – it's just like being in a car with all my little brothers and sisters again. Wussywat says, "Something beginning with Duh?" and Duckadile starts off "Dumpkins!" (pumpkins), "Duhweebs" (weeds) and so on. Just silly and very childlike!
Si R – I'm loving an episode called "Tweet" at the moment. Wussywat learning to whistle through not trying to whistle is a lovely notion. He manages to whistle without realising it until Duckadile catches him unawares, and hey presto he figures it all out just in time to join Ird in her dawn chorus. Lovely.
What was it like making the series – you must've had some laughs working with Liza Tarbuck…?
Si Q – Recording sessions are the most fun and generally one of the few times we are all able to meet as a group as we're working in different locations for a lot of the time. There's a real party atmosphere because of this and we end up in floods of tears we're laughing so much! Liza is fantastic, she has a great sense of humour and intellect. She's so knowledgeable on so many things. Morwenna is amazing as Wussywat, she acts out every word and boings and bangs and bashes her way through the scripts, which is truly wonderful to behold! Marc and Rasmus are a laugh too. Marc Wootton's Ortus and Ird are hysterical while Rasmus' Duckadile is joyous and so silly – his energy is infectious.
Si R – It's been amazing to finally bring Wussywat to screen. Those of us who've worked on the show for so long are quite chuffed. Jo Kiddie's beautiful designs have been a constant source of inspiration developing the concept and Liza Tarbuck's commitment from the start has been heart-warming. Our director, Tom Edgar is loads of fun and his passion for classic cartoonery matchless! All animation has been done in Toronto, Canada, and the team there have worked tirelessly from the off, albeit in a different time zone. Lastly, it's been a lot of fun working with Henry Normal at Baby Cow. His knowledge and advice on slapstick, timing of gags and general comedy gold has helped us guide our clumsy little cat safely to broadcast.
We hope CBeebies viewers and their families will enjoy the show as much as we've loved creating it.