Katie Morag: Interview with author Mairi Hedderwick
The adventures of Katie Morag – the little girl created by Mairi Hedderwick in her popular series of children's books – come to CBeebies soon in a brand new drama series. 
We had a chat with the author and illustrator to find out what it's been like seeing her books being turned into a television programme…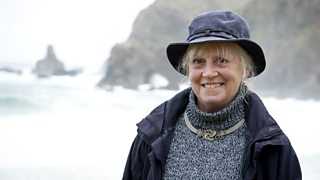 Can you tell us a bit about the Katie Morag stories?  
I was originally an illustrator for other writers' stories until I was nudged to write and illustrate the first Katie Morag story in 1980. Katie Morag Delivers the Mail was not published until 1984. 
What inspired you to write the Katie Morag books? 
The inspiration for that first book  - and all the others - came from a holiday job I had on  the Inner Hebridean island of Coll when I was an art student in 1958. Visiting the islands then was like going back in time; no electricity or mains water, everyone grew what they could, everyone knew everyone (or thought they did) and the passenger and supply boat only came to the island three times a week, weather permitting. For me it was a magical world and I wanted to be part of it. Eventually Coll became our family home, but my children were teenagers when I got the opportunity to create Katie Morag,  so she was a delightful nostalgic rerun of  those early family years.       
How have you found the experience of seeing your writing turned into a television drama? 
I was quite prepared to 'let her go' into a medium of which I had no experience. But as it turned out, Move On Up (the production company making Katie Morag for CBeebies) have been so inclusive right from the start, inviting myself and my tribe of children and grandchildren to the sets and locations on the Isle of Lewis many times. The family agreed it was like walking into my illustrations - so meticulous is the transformation from book to studio set. Some of my family even became extras at the filming of Granma Mainland's Wedding Ceilidh – an island ritual they are well familiar with.
Was your own childhood anything like Katie Morag's? 
Not in terms of location or siblings, as I was an only child. But Katie Morag's watchful eye on grown-ups is definitely my own, both then and now.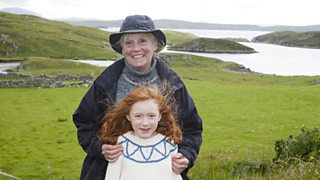 What do you think makes Katie Morag's adventures appealing to children?  
I have a notion that children's writers explore unresolved questions in their own childhoods.  I certainly do. And so children recognise and easily identify with the problems I create for Katie Morag - her moods and fears and family issues.
What were your own favourite books or stories when you were a child? 
Sadly, there were no children's books in my childhood home. I avidly read 'Pilgrim's Progress' but I think the engravings were the attraction.
The map of Struay is an important element in the Katie Morag books – has location played an important role in bringing the stories to television?  
I hope so. I love the Highlands and Islands of Scotland and it is a delight to me that Katie Morag and the Two Grandmothers is on the required reading list in English schools under the term topic called 'An Island Home'. What a grand wee ambassador she is for the part of the world I love so much.
Katie Morag starts on Sunday 3rd November at 5.25