GBBO's Richard Burr on constructing the perfect bake
As a dad of two CBeebies super fans, Great British Bake Off 2014 finalist, Richard Burr, seemed the perfect person to team up with to create some magical CBeebies cake recipes and designs for kids.
We had a chat to Richard about his time on the Bake Off, what got him into baking and what his family loves him to make in the kitchen...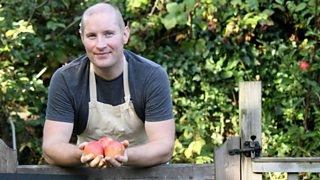 So, Richard, what got you started baking and have you always been a keen cook?
When I was 15, before I was big enough to go out on building sites, I got a Saturday job in a local bakery. I used to do the washing up from 5am until midday in the same kitchen as the baker. I would watch him make all manner of amazing creations. Ever since then I've always had the baking bug and I assume some of what I picked up went in.
When I became a Dad I started baking much more, both to feed my kids freshly made food and as a way of spending time with them. I grow my own fruit and vegetables, which is another great way of spending time with the kids outdoors. We try and grow funny coloured vegetables like rainbow radishes and purple carrots to make it more interesting for them.
You've got two little girls, what did they think of you being on The Great British Bake-Off?
Our younger daughter couldn't really distinguish between TV and reality at the time and as we've seen a lot of my fellow bakers in real life, she'd run up to the telly and start talking to Iain or Chetna when she saw them. Whenever she sees Mary Berry on the cover of a magazine in a shop she'll shout, "It's Mary Berry!"
Our elder daughter was much more excited, particularly as she got to be featured on the show herself. She was in Year One when the show was transmitted and it was really exciting for her and her friends and teachers at school. I'm a parent governor at her school and I've got quite involved in things like judging school baking competitions and making the 'guess the weight of the cake' cake for the summer fair.
What recipes go down best with your family?
The girls love homemade pizzas the best, mainly because I let them put all their own toppings on, which usually results in a bit of a messy kitchen! They really like making bread with me as shaping the dough is a bit like playing with modelling clay. We make a lot of challah bread for that reason as you can plait it into lots of different designs. I can plait bread but I still can't plait their hair!
My wife has more of a savoury tooth than sweet so she loves my crackers, breadsticks and sausage rolls. Her favourite birthday cake is a peach, white chocolate and cream cheese one, which is so good it's featured in my recipe book.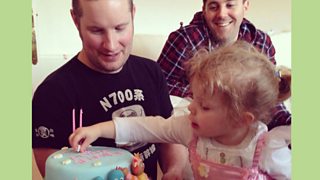 You're a builder by trade – are there any similarities between building and baking?
It helps to be pretty handy if you're going to do either of them I suppose. I don't tend to notice the similarities as much as other people. My wife says when I'm butter-creaming a cake it's just like when I'm plastering. As a builder I specialise in the 'wet trades', which means bricklaying, plastering, tiling, etc. So there are quite a few crossover skills in terms of mixing up the right consistencies to use.
I quite like bakes that involve construction – like three-dimensional biscuits or multi-tiered cakes. Our gingerbread houses are quite a feature at Christmas.
The atmosphere on the Great British Bake Off seems really supportive. What did you learn from the other contestants during your time on the show and have you all kept in touch?
I'm still in touch will all the bakers from my series. We have a Whatsapp group with all 12 of us and we message each other nearly every day. I've also been to stay with quite a few of the bakers around the country and, as I live in London, they'll often stay at my house if they're in town for any reason.
It's hard to say specific things that I've learnt from my fellow bakers as we all share our baking knowledge with each other so I think we've all developed over the past year. I will say for certain that I'm a much better baker for having known them as between us we have experience and interest in such different areas of baking. It's going to be really good fun watching the new series and having a post mortem on each episode with my fellow alumni of the 'Class of 2014'.
You can watch The Great British Bake Off on BBC One on Wednesdays at 8:00pm. Get Richard's cake recipes and more from the latest series of Bake Off here:

Great British Bake Off recipes
Richard's baking tips and tricks