Grown-ups caught up with Maddy Darrall, Executive Producer of Topsy and Tim. We found out all about the brand new series and what it was like to adapt the very well known stories... 

Can you tell us about the series?
Topsy and Tim is a live-action drama series inspired by the wonderful series of books that many people will remember from their childhoods. It brings to life the tales of Topsy and Tim, 5 year old twins, who experience all the usual joys and challenges of family life.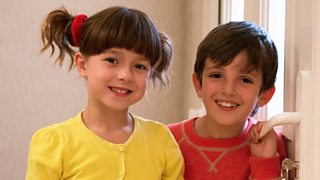 What's your role on the production?
My official title on the show is Executive Producer for Darrall Macqueen – Darrall Macqueen is the independent production company making this series for CBeebies. My work on Topsy and Tim began about 12 months ago when I worked out the creative direction of the show – story, scripts, set, casting - with CBeebies and with our Series Producer, Fiona Robinson. Now that filming is well underway, I do what I call "the churn" - making sure the latest scripts are in best shape, managing any last minute script changes due to cast illness or other unforeseen circumstances. When our lead cast members moved up to a new class in September this year, they asked if they could attend their first day at school. This was supposed to be a filming day so it became my job to re-work some scenes/a script so we could continue filming an episode called Emergency Rescue without Topsy and Tim. When you eventually watch this episode on CBeebies, it includes a lot of back of head Topsy and Tim (their doubles!) so we could shoot a scene where a cat is rescued from a tree minus our two lead stars!  

Why did you decide to adapt Topsy amd Tim for TV?
When my oldest son (who is now 5 and a half) was 3 we stayed in a holiday cottage where we found two old Topsy and Tim books.  I had always loved the stories as a child – and so did my husband – and we watched our son fall in love with them on holiday. When we got home I discovered that you could purchase new additions of all the old classic Topsy and Tim books and we ended up with a mini library of them!  Once I knew CBeebies was looking to make its first drama for under-5's,  Topsy + Tim was top of my list - I knew it could fit the bill perfectly.The Topsy and Tim books reflect timeless moments in a pre-schooler's life and their themes still resonate today.
 
How similar is it to the books?
The Topsy and Tim books tell tales of new experiences for the twins – but we haven't directly adapted each of these books or followed the same first experience model for the TV series.  Instead we've focused on all the small stuff in Topsy and Tim's life that is perhaps less of a first experience but more a reflection on the choices, challenges and cheer of genuine family life – like getting a first pet, learning to ride a bike with Mum, meeting a new babysitter.  Each episode covers the small stuff that feels very big for a pre-schooler.  Many of everyone's favourite characters from the books appear in the TV series – friends such as Kerry, Tony Welch, Rai, Vinda, Andy Anderson, Stevie Dunton - but we've given Dad a new job (he now runs his own business – a local transport service for older people) and this brings a fun older friend, Mr Rosen, into the twins' lives on a regular basis. Plus Grandma and her dog Mossy are brand new characters that felt relevant to this busy, happy modern family unit.

Why is this an important series for CBeebies?
I believe Topsy and Tim is a significant series for CBeebies because it is recognition of the value for pre-schoolers of great storytelling and it is ground breaking that CBeebies have embraced the drama format for children of a young age. Each episode of Topsy and Tim is a self-contained story about a small moment in family life but also involves a broader emotional journey for the twins - moving house and starting at big school. We weave these to big dramatic themes across our 60 episodes and hope they will captivate our young viewers.  

Did being a parent affect the way you approach the production?
Being a parent myself, I can see that my (nearly) 4 year old and 5 and a half year old boys were ready for a more immersive viewing experience and I think a British drama series, with children of their own age at its heart, broadcast especially for them on CBeebies, is an absolute daily treat. How lucky are we all to have CBeebies?!!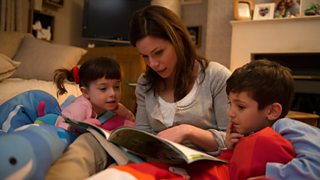 Did Jean Adamson have any involvement?
The Topsy and Tim books were lovingly written by Jean Adamson and her late husband Gareth in the 50's and 60's – and Jean is still writing new Topsy and Tim books today. We visited Jean at home and she also came to the television studio on two occasions (very exciting for the young cast!).  We have all taken so much inspiration from Jean's passion for storytelling.  She always puts so much thought into the detail of the Topsy and Tim world and I hope we have made her proud.  

What do you hope children and parents will get from the series? 
I hope children and parents feel positive about family life when they watch Topsy and Tim.  I hope they watch the show every day at 5.30pm together and all want to know what happens next and can't wait for the next episode - just like the best adult drama series!

Topsy and Tim starts on Monday 11th November at 5:30pm on CBeebies.