Kids cake tips from The Great British Bake Off's Richard Burr
With Great British Bake Off fever gripping the nation, here at CBeebies Grown-ups we thought it would be a great idea to team up with GBBO 2014 finalist and father of two, Richard Burr, to create some CBeebies-themed cakes for your little ones.
While he was hard at work, we asked him for some tips and advice on creating showstopping kids party cakes...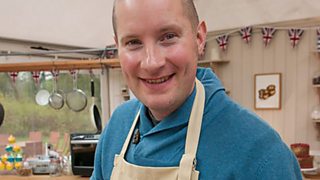 What are your top tips for the perfect bake?
Get a decent set of electric scales. Unlike with normal cooking, baking needs real precision in terms of the ingredients you're using
Patience! If you're cooking a sponge, don't keep opening and closing the oven door or it'll collapse
Start with the basics and work up. Often people are put off by trying to be too ambitious. In my recipe book the bakes are graded levels 1, 2 and 3 so you can get better as you go
Get a silicone spatula – they are brilliant for folding in flour, scraping the last dregs out of a bowl – I use mine more than anything in the kitchen
If you make a lot of cakes, get a small, offset palette knife. They're so useful and I use mine all the time
What's been your biggest baking disaster?
Sometimes I'll do a recipe I've done dozens of times before and it'll go completely wrong. I don't really consider these to be disasters but I try to factor in enough time if I'm making something for a special occasion to redo it if need be. At the end of the day no one's perfect and I bake to relax so if it goes wrong I take it on the chin and have another go.
You've made some amazing Furchester cakes for your little girls. What other fun cakes would your daughters love you to create for them?
My girls are usually quite specific when it comes to the birthday cakes they want. For my younger daughter's 3rd birthday this year I made her an Elmo cake and Cookie Monster cupcakes as she's a big Furchester Hotel fan. I put tips for making these cakes on my blog as once you have the right piping nozzle they're pretty straightforward.
The year before, my wife and I made our younger daughter an In The Night Garden birthday cake. We had friends staying and the four of us were up until about 2am with a bottle of wine or two making all the different characters together.
The girls have just had their birthdays so they've not started thinking about what cakes they want next time around. But as our younger daughter starts school next year, she'll probably want a Topsy & Tim cake, as she's really enjoying all the books and the CBeebies series.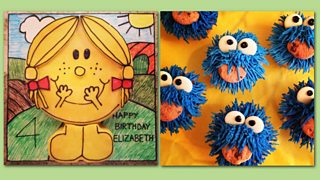 What do you need to bear in mind when coming up with a recipe for a kid's birthday cake?
Some of my best cake recipes use different flavoured liqueurs or strong flavours like coffee and dark chocolate. Obviously these aren't suitable for kids so with cakes for children I usually stick to a Madeira sponge, a chocolate sponge, a vanilla sponge or a lemon sponge. The other difference for children's cakes is that I try not to use cream or fresh fruit, as I do on other cakes, as the cakes need to be able to keep for a few days and be stable enough to put into party bags.
I don't worry too much about food colouring – birthday cakes are supposed to be brightly coloured. I use gel colours though, rather than ordinary food colouring. You can buy gel colours online. They're far more potent so you need to use much less of them to get vivid colours.
If I'm not piping cakes with coloured buttercream I always use shop-bought fondant. Fondant is one of those ingredients like filo pastry where homemade versions don't tend to turn out as well and fondant is so easy to work with too.
I tend to use a 23cm springform cake tin for kids' birthday cakes and if there are going to be quite a few people coming to a birthday party, I make them multi-layered so a bit higher. Once you've mastered covering a basic round cake with fondant or buttercream, the world's your oyster in terms of what sort of cake to create (see pictures above).
If you're not very experienced, I wouldn't advise trying anything too ambitious, like three-dimensional characters. Creating the characters flat from rolled out fondant still makes for really impressive cakes. There's nothing more stressful than being up late the night before a birthday party thinking "it's all gone wrong" and having to rush out to buy a supermarket cake in an emergency. So keep the design simple.
I use the website Pinterest for inspiration for children's cakes. There are so many printable characters on that site to use as templates – I'd really recommend it.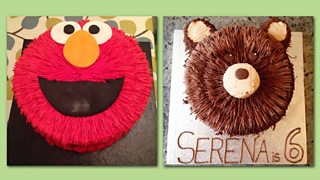 And what's your plan of action when you have an epic birthday cake to make?
As my wife and I both work full time, we've taken to holding most of our daughters' birthday parties on Sundays to give us Friday night and all day Saturday to prepare the cakes, food and party bags.
I try and make the sponges in advance – up to three days before. As long as they're wrapped in cling film once cooled, they stay fresh and don't dry out. This also avoids the last minute stress of a sponge sinking or burning. My daughters are junior party planners in the making – they'll let us know exactly what themes and colour schemes they want months before their birthdays so we usually have plenty of time to plan.
My wife or I will usually sketch out what we want the cake to look like before we start so we have a rough idea of what we're doing. But however much we plan, we always end up staying up until 1 or 2am the night before finishing everything off. It's become a bit of a tradition.