Bing: Interview with creator Ted Dewan
Bing is bouncing onto CBeebies so we had a chat to Ted Dewan, writer and creator of the much loved Bing Bunny books to find out what we can expect from the TV series...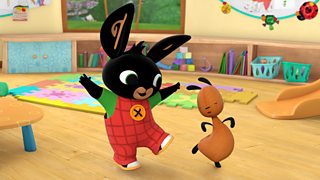 How did you come up with the idea for Bing?
When my daughter was a toddler, I had to read her some toddler books over and over and over again that bored me to tears.  It seemed a shame to me because I felt that reading books could be one of the best parts of our shared day. Whereas books for slightly older children were often complex and multi-levelled, the toddler stuff just wasn't. So out of frustration really, I started off with something of a toddler book satire, depicting what toddler life was really like, in contrast to the ideal world often presented in books. When I took the roughs to the legendary David Fickling in Oxford, he helped me shape the series into something much more compassionate and worthwhile, and launched them on the world in 2003. 

How did your experience as a parent affect how you created Bing?
There's no way Bing would have been anything like it is had I not been a parent. I'd been doing picture books for 6 years before becoming a parent, so I never had the experience of reading them to a toddler day in and day out. I look back on my work for children before becoming a parent, and I can see something big missing in it. I think a part of you really grows up properly when you become a parent, and at the same time, a very young part of you is rekindled. Parenthood is like watching a film that you came in on 10 minutes after it started for the second time; but the second time, you see the first crucial 10 minutes you missed before, which puts the part of the film you already saw into a totally different context. With that kind of insight comes a wisdom clearly absent in one's pre-parent self. 

What do you hope children get out of watching Bing? 
I hope the television series will do what the books set out to do; firstly to entertain them, to satisfy their basic human need for stories that relate to their lives. I hope they get some great belly-laughs and some gripping belly drops as well. Then I hope that they'll see their lives mirrored on screen and understand that the drama that happens in their life happens to nearly everyone else. I hope they get even more fired up about sharing Bing books with their parents and that their parents come to really love the whole Bing world rather than simply accept it as something only their children are into. I'm looking forward to seeing how moments from the series insinuate themselves into family life, just as catchphrases from the books did.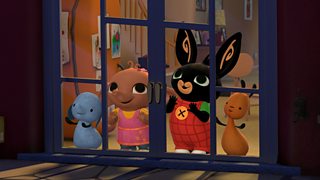 Do you think parents will enjoy it too?
Right from the beginning, the whole ethos of Bing was that parents could enjoy sharing the very same dramatic experience with their toddlers, and not just guffawing at the odd gag thrown over the heads of the toddlers to keep parents engaged. The idea was always to find a way of depicting the drama of the life they shared with youngsters so both kids and parents could see their lives played out before them. Someone at the BBC described the series as "reality TV for toddlers". I'd add "and their parents" to that. All of us involved in creating the Bing television series never drifted from that principle; they totally believed in it and made it their own cause. I hope the Bing animated series grabs hold of parents and helps them to enjoy the micro-dramas of sharing a life with toddlers rather than dread most of it. If Bing manages to make the unfortunate phrase "terrible twos" obsolete, I shall die happy.

Do you have any favourite episodes or moments in the series?
The last episode I wrote, "Toy Party", is my personal favourite. It's the 'anger management' episode--a rare depiction of pushing and real hurt between Bing and his best friend, Sula. The resolution is very zen, and has a strategy for both kids and parents that diffuses the anger, and I hope it's one that parents find really works in real life. My other favourite is "Goodbye" where things unravel just at the moment when Sula has to leave Bing's house and it all goes wrong. Parents will TOTALLY recognise that scenario, which is always ripe with drama in real life--tears, mayhem, and laughter.

The Bing television series travels beyond your original classic books, how do you feel about the other characters?
I love our new characters to bits. My favourite part of their development was exchanging explorative drawings of them with the director, Nicky Phelan, and watching them become ever more vivid. It was great fun to have someone else doing drawings with me, especially when Nicky or someone from the development team would come up with improvements and tweaks I'd never think of myself--I wish we'd had a lot more opportunity to do that! I also loved seeing so many different animators working on the characters during production, many of whom became a lot better at drawing them than I am. When creating the books, all I had to help them along were my wife (also a children's book creator), some 'consultant toddlers' and their parents at the playgroup, and (luckily) the best editor in British children's publishing. But in animation, I found myself amongst teams of writers, artists, actors, animators, directors and producers, all creating the personality of the characters, making them believable and complex individuals with the palpable sense of a soul. It's similar to the stages of becoming a parent...seeing the fuzzy ultrascans in utero become clearer and more lively with each pass; the pain and drama of birth; the long road of parenting. Well conceived and developed animation characters, like real children, are brought to maturity by a great and practical and mysterious collective force; at some point, you find yourself standing agog in happy exhausted parental idiocy, having aged a great deal, slack-jawed with wonder as these creatures talk back to you and dance before your eyes and surprise you. It's proper sorcery.

Get to know the characters on the CBeebies website, and join in on the chat at facebook.com/cbeebies and @CBeebiesHQ.