Top tips for parents of budding gamers
Is your little one getting curious about the games on the CBBC website and you don't know where to start? CBBC Games producer, Mark Owen has some top suggestions for parents whose little ones who are ready to move on to new gaming heights…

Can you tell us a bit about yourself?
My name's Mark Owen and I'm a Dad to a two year-old boy. I'm also Senior Producer in CBBC looking after games. Over the last 15 years I have made games for shows such as WolfBlood and The Dumping Ground.as well as brands like SpongeBob, Dora The Explorer, Coronation Street in my pre-BBC life. 

Do you play online/video games?
Do you play them with your child? I am a huge gamer and have been hooked right from the moment I got a Donkey Kong 2 Game and watch for Christmas in 1983, right up to now and my PS4, where my current fave game is Fez.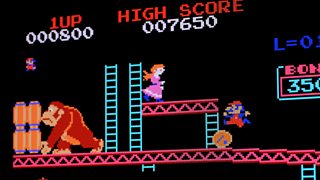 Donkey Kong
My little boy has been into my iPad for a while, and as well as playing on CBeebies Playtime, he loves pretty much everything Toca Boca have released, especially Toca Hair Salon Me and Toca Band...
What was your favourite game growing up and what are some of your stand out gamer memories?
Growing up I was a huge fan of the Sonic games on my MegaDrive and would regularly take on my brother in games of FIFA 95. We're still playing FIFA 14 online now, me in my spare room in Manchester and him out in Inner Mongolia...
What games would you recommend on the CBBC site?
So here are some recommendations if your CBeebies fan is itching for a little bit more action on CBBC.
If they like
Tree Fu Tom Magic Dash
, they'll love
Deadly Dash Extreme
. In this runner game with simple controls, players help Deadly 60 hero Steve Backshall travel the globe and take photos of various 'deadly' beasts. There may even be a cameo from a T-Rex…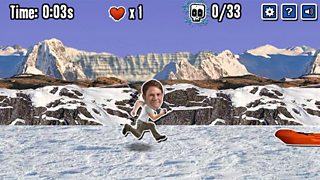 Deadly Dash Extreme
For those kids who are into fire engines and the emergency services we have
Hero Squad: Rapid Response
, where they can earn their stripes by taking control of not only a fire engine, but a lifeboat and a sea rescue helicopter.
If you live with a
Timmy Time
fan then why not graduate to his older cousin's suite of games with
Shaun The Sheep's Championsheeps
and see who can come out top in the battle for the farmyard. Sty Dive is a particular favourite...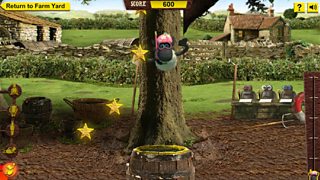 Shaun The Sheep's Championsheeps
For the cartoon lover in your life there's
Scooby Doo: Funfair Freakout
. Can you help guide a sleepwalking Scooby and the rest of the gang avoid all the fun of the fair and a few ghosts and ghouls. This game will also work on your smart phone and tablet and uses really simple touch controls…
As does
CBBC All Star Racer
where CBBC Office's Hacker and Dodge take on the stars of The Dumping Ground and Wolfblood in some high octance slot car racing.
Can you tell us about the new Fly-High and Huggy game? 
Fly-High and Huggy sits perfectly across both the
CBeebies
and
CBBC
sites. Once your child has helped our dynamic duo deliver the golden nut to the King over eight missions on CBeebies, they'll be given the option to take their game to the next level with a further 12 nutty missions of even greater challenge on CBBC.
What would be your top tips for parents nervous about their child getting into gaming?
From my own experience I feel a bit guilty about the amount of time my kid could spend on my iPad playing games. But we've found that these top tips work for us…
Everything in moderation
Sit down and play the games with your child, that way you can see what they're playing and share an activity with them
Make sure you're happy with the game your child is playing. Look up reviews of the latest games and their benefits on the internet. Check out sites such as the excellent www.geekdad.com for their top hints and tips.
Set up 'Guided Access' on your smart device. This will stop your child from accidentally closing down the app they're in and opening up other apps/messaging random contents etc... But we mostly work around everything in moderation
For more information and tips about the transition from CBeebies to CBBC check out our blog from the Controllers of the two channels.
Another resource for gaming information for parents is Ask About Games – here you can find information about age ratings and how to choose the right games for your family.