On November 11th, Topsy and Tim, the twins from the much-loved series of children's books, will make their debut on CBeebies. The original Topsy And Tim books were created and written by husband and wife team, Jean and Gareth Adamson. The first of the books was published in 1959. Sadly Gareth died in 1982 but Jean continues to be involved with the Topsy And Tim series of books and their adaptation for television. Here she tells us a bit more about the popularity of the books and what it feels like to see her characters brought to screen for the first time in over 50 years.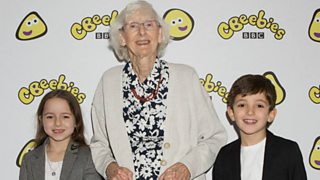 Jean Adamson with Joshua and Jocelyn - Topsy and Tim
Where did you get the inspiration for the books?
Gareth and I both studied illustration at Goldsmiths Art College and married in 1957. Soon after we decided to create a new series of children's books. We decided there would be no magic or fantasy in the books. Topsy and Tim would strike out into the new unexplored territory of real life and the main characters, Topsy and Tim, would have equal roles. Gareth wrote the first stories with great charm and wit and I illustrated them. Having taught design and illustration at Goldsmiths I was able to put a lot of thought and sophisticated design techniques into the illustrations. The characters of Topsy and Tim were carefully constructed to be instantly recognisable little icons and the illustrations had a bright, uncluttered look, but plenty of texture.
Are any of the characters based on anyone you know?
Topsy and Tim were not themselves originally based on specific children. However, the majority of the different scenarios are inspired by observing real children in the relevant situations. Many of the scenarios were also based on my own fond memories of me and my brother Derrick when we were small children. The main characters (other then Topsy and Tim themselves) are practically all based on people Gareth and I knew or met, e.g. my god daughter Mary Jean was the inspiration for Kerry Perry and my children's music teacher at their village college became the vet in Topsy and Tim at the Vet (although I don't think he was aware of this!).
Do you think the stories are still relevant to today's children?
Young children have not changed significantly over the past 50 years and the way in which the books were originally devised is still appealing to young children who need to learn about real events in life that they are experiencing for the first time. The ideas for new stories never run out as children are always doing new things.
Did you have any idea how popular your books would be 50 years on?
I didn't, but I suspect Gareth did. He was rather astute! The first stories, simple domestic adventures, were an instant success. To extend the series Topsy and Tim began to undertake new experiences. They visited hospital, doctor and dentist, went swimming, riding and sailing, and eventually graduated from playgroup to primary school. These experiences are still being undertaken for the first time everyday by young children everywhere. All settings and situations (with the help of our own and our friends' small children, followed by small grandchildren) were, and still are, thoroughly researched so that parents and children can rely on their accuracy.
What do you think makes the books so popular?
The stories were designed to be short and easy to read at bedtime, but with neatly constructed plots. There would be one paragraph per page and the illustrations would be bright and simple. Although the illustrative style of the books has changed over the years, these main design elements remain and are still just as appealing to children. The stories are aimed directly at children, not parents or guardians. Adults sometimes forget that experiences that seem commonplace to them are wonderful, first time adventures to young children. Quite difficult subjects have been tackled, such as bullying, head lice and 'stranger danger' and these have provided useful talking points for parents and children.
How do you feel seeing your stories/characters brought to the screen?
I was absolutely tickled pink when I found out. I think it is brilliant that Topsy and Tim will now become television characters. They will be stepping out of their books and on to television and I can't wait to see the finished product.
How did you feel when you met Joshua and Jocelyn who play Topsy and Tim?
I thought what delightful, charming, friendly and articulate children they both are. I came away feeling confident that they will do an excellent job in bringing my two little characters to life.
What books did you like to read when you were a child?
As a child I was an avid reader, working my way through the whole of the children's section in Peckham Library, although the selection in those days was somewhat limited. My absolute favourites were The Tales of Toytown series, Edward Lear's nonsense poems, Aesop's Fables and Milly, Molly, Mandy.