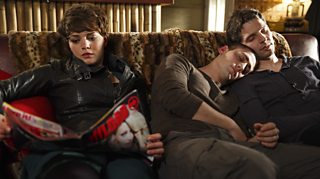 If you loved this still of Hal and Tom sleeping on the sofa, you're going to adore our exclusive follow up pic in this gallery of images from The Greater Good.
In fact, it looks like the whole cast had a blast between takes.
To witness the fitness*... CLICK THIS LINK.
Also, we've been informed that the gremlins have been eradicated from the blog comments. Thanks to the BBC tech team, sunlight and an older, wiser Billy Peltzer.
Apologies again... thanks for bearing with us.
*Sorry. *sighs*