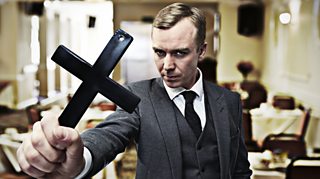 Our source has been silent following one last exchange of images.  
The Trinity has imploded and it looks like nothing can stop Captain Hatch from rising.
Can Rook convince Alistair to recomission The Department of Domestic Defence?
Click these image links to read the emails, click again to zoom in for easier inspection.
Will Alistair finally realise the how much is at stake (pun intended)?
Can anything show Rook that his in league with Satan himself?
What say you, bloggers?
UPDATE: Gremlins have returned! We've contacted Billy Peltzer and will have to wait until tomorrow to publish our *deep breath* Winning Toby's Top 5 Moments From Series 4 clip *big exhale* ... until then, many thanks for your patience.