Hi!
It is a great honour to be your Being Human Blogger for the forthcoming fifth series.
Yes, four seasons of stalking Toby Whithouse has FINALLY paid off.
The deal breaker? Threatening to expose The Tobester's* (uncannily accurate) Pat Butcher impersonation to his adoring public. How he hasn't been cast as David Wicks' younger brother I'll never know.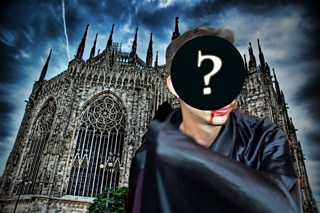 There's more to it than that... honestly. I used to write and research the BBC's Cult website, way back in the days when The X Files was the only supernatural show on TV and the new Doctor Who was nothing more than a twinkle in Russell T Davies' eye.
Why do I love Being Human?
I've loved each series for its fresh twists on old genre staples and supernatural folklore. At the exact moment I lost interest in the recent zombie revival, along came Sasha... and she broke my still-beating heart. Series 4 pulled off the astounding trick of making me sympathise with Yvonne Bradshaw's lust-inspiring-yet-eternally-unlucky-in-love succubus… I mean, we've all been there, right?
Yes, I wept when Mitchell got dusted. Shook my fists in the air to learn that Nina had gone to the great big kennel in the sky. Bawled my eyes out when George made the ultimate sacrifice for Eve. I'll miss Annie more than she'll ever know... but the new characters are so damn intriguing!
Questions, questions, questions...
• Can Hal suppress his dark side?
• Will Alex ever forgive Hal for her death?
• Why does Tom remind me of Woody out of Toy Story?
I for one cannot wait for 2013...
The Hooded Fang (Steve.)
*Yes. I really CAN call him "The Tobester."
[Answers the phone.]
CORRECTION:
Yes. I really CAN call him The Right Honourable Lord Tobias "Grandmaster Flash" Whithouse.