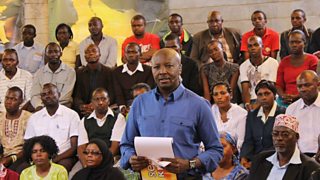 Joseph Warangu is the presenter of Kenya's TV and radio debate show Sema Kenya (Kenya Speaks) which returns for its second series this weekend. Broadcast in partnership with BBC Swahili and the Kenya Broadcasting Corporation, the series' first debate focuses on the topic of insecurity and comes from Mwingi in the east of the country. Half the audience will be from Garissa, where the Dadaab refugee camp, which has recently been subject to attacks, is located. As in the first series of Sema Kenya, Kenyans from all over the country will be able to join the debate online and via social media. 
I'm a fan of boxing, but have never personally knocked out anyone. On the contrary, I sometimes knock myself out with too much porridge!
One of the boxers I used to watch a lot while living in London was the former British world champion Chris Eubank. He used to put on quite a show on and off the ring. His eccentric style of dressing stretched from riding boots, bowler hat to a monocle.
This, combined with a typical boxer's arrogant attitude, meant you either loved him or loathed him. His Tina Turner entrance song in the ring said it all: Simply The Best.
Boxer's pace
Every good boxer has an entrance anthem whose purpose is to hype the audience and hopefully instil fear in the opponent. As a presenter on Kenya's TV and radio debate show Sema Kenya (Kenya Speaks), I too go through a boxer's pace in preparing for the show.
A few minutes before cameras roll, I'll be silently playing my anthem in my head, pumping up my heart muscles, and mentally getting the vocal cords to shuffle, skip and spar.
The preparation steps up a gear as I begin to get regular updates from the Sema Kenya production team: "The panellists are here… the audience is seated... we've collected all the questions from the audience…" It all reaches a Eubank-like crescendo when the programme director's voice cuts through on my headphones: "Presenter on set please!"
Suddenly the many days of preparing for the match dissolves into my first words: "Hujambo na karibu kwa makala ya Sema Kenya" - hello and welcome to Sema Kenya.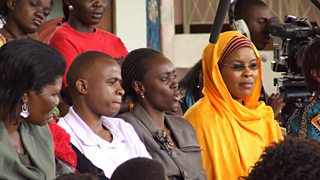 However, as we record show after show, and take the programme across the country, some of the toughest and touching moments for me as a presenter actually happen when the cameras stop rolling.
"A great show"
The show normally ends on such a high and engaging note that the audience and panellists are left yearning for more discussions on issues that truly matter to the public.
As I shake hands with the panellists and thank them for their time, I'm confronted with comments like, "There's another point I wanted to make regarding question X, but I didn't get the chance – but it was a great show!" Then yet another panellist would hold on to my hand tightly and say "You see, the reason my community has lagged behind is because… but thanks for coming to my constituency."
When I step off the podium, I find the audience waiting and telling me "Thank you Joe. You know, if it wasn't for Sema Kenya, I would never have been able to come this close to my Member of Parliament." And another would then jump in, "When is the programme coming back here? We still have more to discuss with our leaders." And then the perennial question: "But why can't you guys extend the programme – it needs to be three hours long, because we have many issues here!"
Raw feedback
By this time the production manager is desperately trying to tear me away from the group so that I can have a quick lunch before the vehicles leave to edit the programme. But not before an elderly woman has had her say: "We are so happy that, unlike all other programmes, this show is in our national language Kiswahili which means we can follow the discussions easily."
I've now discovered that no amount of a boxer's rigorous training and preparation can truly prepare me for when the cameras stop rolling.
There's serious sparring that takes place during filming between ordinary Kenyans and their leaders. You have an upper cut here about misuse of public funds and a left hook there about lack of proper roads to transport agricultural produce. Any attempt to duck the question is met by timely follow up questions until satisfactory answers are found.
And when the cameras stop rolling, it's time to get the raw but quite often positive feedback directly from the panellists and the audience.
We then use it to ensure that this unique platform for ordinary Kenyans to hold their leaders to account, continues to be – as Chris Eubank would say. "Simply the best!"
Related links
BBC Media Action's work in Kenya
BBC Media Action's work on governance and rights