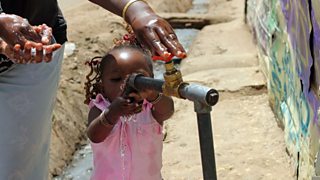 On Global Handwashing Day, Diana Njeru looks at how a radio station constructed from a shipping container is helping people improve their health in one of Kenya's largest slums.
On the banks of a slimy grey river, a man is using a handcart to dump a barrel of human waste into the water. Sliding down the slope, the cart slips from his grasp and it tumbles in, forcing him to wade through the sludge to retrieve it.
This was the scene before me as I visited Korogocho slum last week, one of Nairobi's largest informal settlements and home to over 150,000 residents.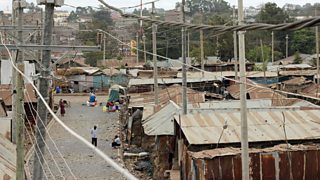 A shipping container turned studio
Just up the road from the river is Koch FM, a popular community radio station BBC Media Action is helping to support through tailored mentoring to improve the technical skills of its staff. The station's studio – constructed from an old shipping container and sound proofed with egg boxes – has been run by a team of passionate volunteers since 2006.
Along with poverty and overcrowding, sanitation is a huge issue for Koch FM's listeners.
Just outside Koch FM's gates, children play amongst piles of rubbish and the lack of proper infrastructure has turned the nearest river into an open sewer. Clean water is very hard to come by. In slums like Korogocho, people must either rely on rainwater or water vending points run by cartels. This toxic environment paired with limited awareness of good hygiene means life-threatening but preventable illnesses like diarrhoea are all too common.
To help tackle this, BBC Media Action mentor Davie Njuguna is currently working with staff at Koch FM to help them produce programmes that address water, sanitation and hygiene (WASH) issues.
Practical advice
With the help of Davie's weekly mentoring meetings, the production team are now producing dramas and PSAs (public service announcements) designed to give people information to help avoid illness caused by contaminated food and water.
Their output focuses on practices such as boiling water before drinking and washing hands with soap before eating.
Recognising that water is a substantial household expense for their listeners, the PSAs and programmes have concentrated on the economic impact of not following these practices. For example, one of the team's PSAs highlighted how much it would cost to treat a water-related illness in comparison to the cost of taking the correct precautions. Another PSA told the story of the financial losses incurred by a businessman who didn't wash his hands or boil water.
The station is facing huge challenges. As Davie tells me in one of our catch-ups, "Their equipment is basic, they regularly suffer from power cuts and money is tight because as a community radio station, they're not allowed commercial funding." But, he pauses, bursting into a proud smile, "Their enthusiasm is incredible and they picked up the need to produce WASH content immediately."
As a result of Davie's work, Koch FM are now broadcasting a weekly programme called WASH Thursdays, which incorporates drama, interviews with experts and artists and listeners' input too.
James, a WASH Thursdays presenter at Koch FM told me; "Before Davie, we hadn't thought of doing a health related public service announcement before. Now we're working on health scripts all the time."