For Boldit Deng, an unemployed father of five in South Sudan's Warrap State, the news that his daughter was about to receive 125 South Sudanese Pounds (£25) meant only one thing: he could buy more goats.
But his daughter Rose, 18, had other ideas. She planned to spend the money on her education.
"I want to use this cash to buy a school uniform, as you can see the one I am now wearing is very old," she told BBC Media Action's Our School radio programme, "I also want to buy some exercise books for mathematics, English and chemistry, pens, rubbers and a ruler."
Once Rose explained to her father that the money was actually intended to help girls like her with their school expenses, he was thrilled to hear there was such support for his daughter's education.
"(This) is very good for me as a parent. It is my first time to see money being given to girls instead of asking us as parents to pay," Boldit told Our School producer Atem Deng Malek, adding that there could be ongoing benefits for his daughter. "I understand from her that she may get another cash transfer if I send her back to school next year."
Incentive to stay
Starting this year all school girls in primary five grade (usually anywhere between 15-18 years of age) and upwards will receive a payment of 125 SSP (£25) each year. As long as they attend school. The aim is to increase girls' attendance and retention in school by helping them - or their families - with some of their yearly expenses.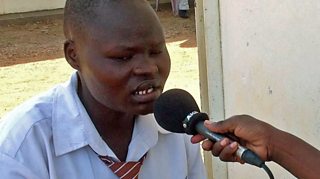 19-year-old Christine is interviewed for Our School in Juba, South Sudan
South Sudan has one of the lowest rates of girls attending school in the world. Years of war meant many children of both sexes missed out on years of school. On top of this, education for girls has not been seen as a priority. Early forced marriages, early pregnancies, and poverty have all affected the number of girls going to school.
The challenge of encouraging girls to stay in school is one that head teacher Joseph Kiju Abraham understands only too well. At the busy Juba Day Secondary School, he told our producer Florence Michael "the number of girls in schools is very small compared to boys. So this money is given to encourage girls go to schools so that the population can increase."
Angelina, a parent of a 15-year-old school girl in Western Equatoria State, says the cash transfers will help her family's finances.
"It (cash transfer) will help me carry my burden of thinking about getting money for my daughter's school needs like books, or school bag, so the cash transfer will reduce my economic burden and give me peace of mind," she told Our School producer, David Night, in Yambio, the state capital.
Unlike Boldit, Angelina has some education. She works in a small health clinic in Yambio to support her family. Angelina was able to sit down with her daughter and draw up a simple budget to calculate how they would spend the money.
Eighteen-year-old Lith from Lakes state knows exactly what she wants to do with some of her money.
"I will buy a book to remind me that there is something good in education," she said.
The new cash transfer scheme is part of the Girls Education South Sudan project, and is funded by the UK's Department for International Development.
Related links
BBC Media Action's work in South Sudan
BBC Media Action's work with women and girls (PDF)
Follow BBC Media Action on Twitterand Facebook
BBC News: Q&A South Sudan clashes