"Isn't Facebook just for dating?" That was the response I got at the beginning of a social media training session I was running for staff at our partner radio stations in Nigeria. And it's a common response – particularly from older journalists. So let me tell you a story of success which I use to convince them otherwise.
It's the story of Rita Egwujovbo, who produces and presents a programme on one of our partner stations, Hot FM. Called Dateline Abuja, the programme was started by Rita five years ago and sets out to give local people a voice in how their country is run. 
Rita Eghujuvbo, Hot FM, Abuja
At first, Rita didn't use any social media platforms at all. But after taking part in BBC Media Action training, she created a Facebook page and group in 2011, mainly to get feedback and encourage her audience to interact with the programme. What she got was something even better than that.
Through Facebook, her audience has contacted her with stories such as the poor state of sanitation in their towns or how housing developers are exploiting tenants and potential housebuyers.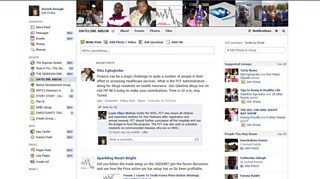 Dateline Abuja Facebook page
Driving change
Stories like these that that started online have also seen positive action happen offline.
One farmer got in touch with Rita on Facebook to take part in a programme about how the government could help people like him.
And after the programme, he also used Facebook to tell her the long-lasting impact of taking part in the show. Using the information he had learned from the programme, he and his fellow farmers created a cooperative so they could access government funds and succeeded in getting money for a new tractor. 
Another listener used Facebook to ask Dateline Abuja to highlight the condition of a cemetery in Nyanya, a suburb of Abuja.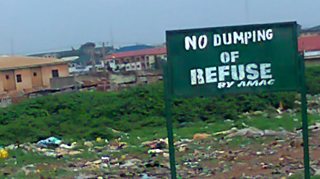 It wasn't just overgrown with weeds and choked with rubbish but also a dangerous place to visit Thieves used the cemetery as a hide-out and ritualists dug up graves to remove body parts and even attempted to kidnap people.
After the programme featured the story, the cemetery was cleaned and security improved in the area by Abuja's Environmental Protection Board.
Social possibilities
So what was the response at the end of the social media training session?
Two female senior journalists from stations in Enugu, south east Nigeria, couldn't hold back their excitement. "I thought social media is just for boyfriends and girlfriends," they told me. "I didn't know that we could use social media for such amazing things as improving our programmes and to generate revenue."
Related links
BBC Media Action's work in Nigeria
Follow BBC Media Action on Twitter and Facebook