"Just as a caged bird enjoys flying in the blue sky, an adolescent girl rejoices when her early marriage is stopped."
Sanjida Islam Chowa explained to me that, for a teenager, getting married at a young age is no less than life in a cage. And Chowa, along with a few friends, has been helping other girls find a way to fly out of this cage for several years.
We first met these seven teenagers when they were 13 or 14 years-old. Back in 2018 we featured them in BBC Media Action's popular radio programme Hello Check! because of a wonderful initiative in a school in Nandail, in the Mymensingh district of Bangladesh. Along with other local teenagers, Chowa had learned about the harmful effects of early marriage from a non-government organisation visiting her school.
Armed with new knowledge and motivated by the various physical hardships and long-term effects her own mother had faced due to getting married at a young age, Chowa was inspired to make a difference for her generation.
Part 1: The 'Grasshoppers' – small but mighty
When Chowa and Tabassum featured on an episode of Hello Check! They told us that with their friends, Sneha, Tuli, Pranty, Shema, Jannatul, "together we all seven are Ghashforing (Grasshoppers)… we stop a social problem called child marriage". They had taken it upon themselves to report any accounts of sexual harassment, or "eve teasing" as it is known in Bangladesh, to the police.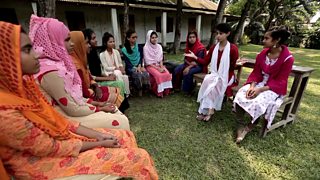 Chowa and her friends featured on an episode of Hello Check! Our programme in Bangladesh
Back then, they said little by little, their attempts to protect girls had become known. Chowa described how initially they didn't get told the details, "we just heard there was a marriage happening nearby and then we tried to get the information – was it a child marriage or not? After, stopping a few child marriages in this way people from our area got to know us."
We asked why they do it… their reply?
"Someone must do it"
"If, we only think about ourselves then there is no point… many people don't do anything because their family is not supporting them, or they have social bindings. But if all of us sit by then society will never change." Tabassum said that from the bottom of their hearts they wanted to help stop child marriage and eve teasing.
By 2019, the Grasshoppers had stopped over 50 child marriages.
Part 2: Grassroots, keep going, keep growing
Four years have passed, and I decided to find out what had happened since then. Chowa is now on her way to university but her work with Ghashforing has never stopped. More teenagers have joined the team and now Chowa diligently guides the new girls.
In Bangladesh, over 50% of girls are married before they turn 18.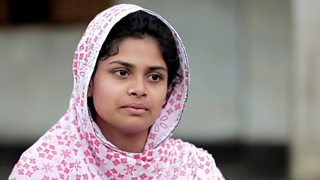 Chowa is now mentoring the next generation of Grasshoppers
Chowa told me about a particularly memorable child marriage they helped prevent.

They had learned that a senior girl from their school was being forced into an early marriage. Due to financial difficulties, the girl's family was unwilling to continue her education, and had decided to marry her off. But the girl's family denied they were arranging her marriage.

First, Chowa and her friends went to the headmaster of their school and asked if the school could pay the expenses for the girl to continue her studies. Then they entered the girl's house, disguised as wedding guests!
They sought out the bride who confirmed the wedding had been arranged against her will. The Grasshopper team then met the bride's parents and explained the negative impacts of early marriage and told them that the school would pay for the girl's education. It was a tense, nerve-wracking but momentous moment when the family agreed to put a stop to the wedding.
Chowa said that moment shines brightly in her memory.
Amplifying the voices of women and girls
When the Grasshopper girls appeared on BBC Media Action's Hello Check! Chowa found that many people in all corners of the country, and even outside the country, heard about the work of Ghashforing and it helped other girls be more aware of the issues.

"Many are showing courage and initiative… maybe the situation of early marriage would have changed only in this area. However, because of this publicity, now there is an opportunity for everyone to be aware and change the situation. Of course, you must continue to study if you want to get rid of the injustice, torture and dowry"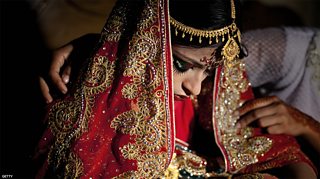 Credit: Getty Images
She explained that it's a societal effort. Girls need the help of someone they can trust – a schoolteacher or an older sibling - and there is a government helpline for the prevention of early marriage. She added that the relationship between a girl and her parents needs to be handled with care – and reflected on another child marriage they stopped.
They found out from the girl's friend in their school, that an early marriage was taking place against her will. But Chowa described how the family will often deny that there are plans for a child marriage.
On this occasion, they set up a vigil near the family home and – as suspected - the marriage started happening one evening. Ghashforing stopped that marriage with the help of Nandail's Teenage Women Football Team! The good news is that the girl then returned to school and is continuing her studies - which Chowa describes as the most satisfying part of their work.
Spreading the word and wings
Times are changing, early marriage used to be publicly celebrated, but this happens much less now – and Chowa thinks this is down to the success of the Grasshoppers – shared across Bangladesh by BBC Media Action's Hello Check!.
Teenage girls in Bangladesh face many pressures as they grow up. Many of them cannot study because of financial problems. Many families think that daughters are a burden - that they will get married and leave for another house, so there's no point spending money on their education. If we can change this kind of thinking, teenagers will grow up wonderfully.
When we asked Chowa about her future, she said she wants to study law at university. She wants to establish justice in our country. She said that if women study law, they will understand their rights. She wants women and girls to be better able to distinguish between right and wrong – and tackle injustice.
Chowa is determined to work with Ghashforing all her life. She wishes that girls should fly freely in the open sky, Grasshoppers is a belief, an idea, and a name to be trusted. Those who have followed in the footsteps of the original seven girls – will always be supported by Chowa.
Together they will keep stopping early marriages.
Final words of conviction from Chowa?
"There will never be a shortage of Grasshoppers in the open sky."
--
Tasnim Khandoker is an Assistant Producer for BBC Media Action in Bangladesh.

Learn more about:
Our work in Bangladesh here
Our work to support women and girls here
Or listen to the 'Voices of women and girls' here