Esfandiar Adena is the BBC Media Action Fellow at the Reuters Institute for the Study of Journalism (RISJ) for spring 2013. He is currently working on a research project at RISJ in Oxford on social media and governance in Tajikistan.
The closer we get to the November presidential elections in Tajikistan, the more hostile the polemic is becoming between government and opposition. And it's the country's social media platforms that have become the battlefield for the most savage skirmishes.
Slander and name-calling between heavy-handed critics of President Emomali Rahmon and furious pro-government cyber activists is common on the Tajik pages of Facebook.
But the online clashes have intensified recently in reaction to a video leaked to K+ TV, a popular TV channel in Central Asia.
Wedding scandal
Filmed during the wedding party of President Rahmon's son in 2009, the video shows the president apparently drunk, singing and dancing.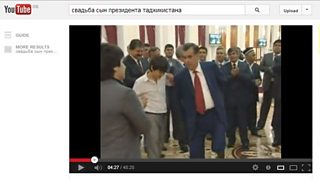 The Rahmon wedding video on YouTube.
At one point in the video, after the head of the state-owned radio and TV committee whispers something in his ear, the president looks at his watch and motions for guests to leave only to suddenly stop them moments later, calling them back to their seats because they haven't yet been "served the main dish".
"He cannot manage his own son's wedding party [so] how can he manage a country such as Tajikistan?" was the mocking response of the President's long-standing critic, Dadajan Atavollayev. A journalist and leader of the Tajik opposition movement Vatandar, Atavollayev has lived in exile in Moscow for the 20 years Rahmon has been in power. 
Atavollayev also used the video's broadcast as a chance to criticise Rahmon for widespread corruption, accusing him of turning Tajikistan into a family enterprise, not to mention violating a law - initiated and signed by the president himself in 2007 - which regulates spending on weddings and other ceremonies.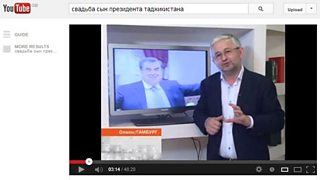 Opposition leader Dadajan Atavollayev criticising President Rahmon on K+ TV.
So widespread was the social media response to the video that, as one government official told me, people at "all levels of the government are discussing the video and its consequences". 
The website of TV channel K+ TV and YouTube were blocked in Tajikistan for two weeks in May and although it cannot be independently verified, the government has reportedly detained a number of people for leaking the video, including state TV journalists. 
"No more war!"
Pro-government voices meanwhile have taken up the fight online, attacking Atavollayev with slander and threats and publishing poems and caricatures mocking him as a "failed opponent of Rahmon who could never win the hearts of people" and "who is envious about the president's popularity and public appeal".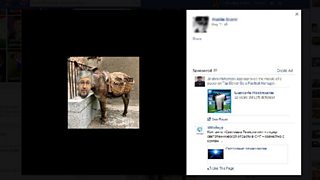 A caricature of Atavollayev on Facebook.
Atavollayev isn't the only opposition figure to attract such a response online. An anonymous Facebook user, for example, recently published videos of a bearded Tajik man having sex with a woman, identifying the man as opposition Islamic Rebirth Party leader Muhiddin Kabiri.
Although the man in the video bears no resemblance to Kabiri, some users condemned him in their online comments for such a "heinous act". 
Such pro-government cyber activists deny any links with the government. They say they don't like the way the opposition fights against "Janaab-i aali" – "his excellency", as they call President Rahmon – and accuse critics of the government of being "foreign agents" bent on bringing about another bloody civil war in the country.
"We don't want any more war. We don't want any more blood," said one pro-government Facebook user, "For those who want rebellion in the country, we had enough loss in 1992-1997! So… shut up!"
But the opposition claims that such pro-government comments come from security agents whose task is to defame the opposition in any possible way to win the propaganda war ahead of the elections. And they say that such activity has only intensified after the online criticism of the wedding video.
"Rahmon's family are so upset about [the reaction to the video] that now they want to eliminate me at any cost and in any possible way," claims Atavollayev. "They spend huge money to defame and disfigure opposition politicians on Facebook."
"Smell of iPad"
On one hand, President Rahmon has publicly recognised the potential of new technology.
According to his own spokesperson, he marked National Youth Day in Tajikistan on 23 May by handing out iPads to a crowd of more than 2000 young people – and attracted criticism from the opposition who claimed he was out to buy young people's online favour. (His largesse also led to an ironic new online catchphrase – "You smell [of] iPad" – used by critics of the government when attacked by pro-government voices.) 
But on the other hand, Rahmon has repeatedly spoken out against the widespread use of mobile phones.
In the same speech on National Youth Day, he repeated his opinion that mobiles damage health, citing "scholars in Ireland" whom, he says, "have proved that mobile use causes fatigue, disorientation, sleep disorders and low immunity" and increases the chance of brain tumours. 
He also added that the number of mobile users in Tajikistan has reached 10 million (when the country's population is 8 million). 
Access to the internet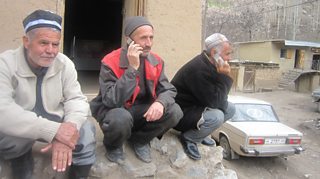 The president's figures might not all add up but as I wrote in my
previous blog
, Rahmon's right about the boom in mobile phone usage in a poor and mountainous country where people have no other reliable means of communication. 
Mobiles have not just made communication easier for people so isolated and disconnected from each other. They also fill the information gap by providing easy access to internet and social networks.
And as we've seen, easy access to such social media networks have opened up a whole new platform for debate.
The BBC Media Action fellowship at The Reuters Institute for the Study of Journalism is funded by the Global Grant from the UK government's Department for International Development.
Related links
Esfandiar's previous blog: New media in a new Tajikistan
The Reuters Institute for the Study of Journalism, University of Oxford
Follow BBC Media Action on Twitter and Facebook