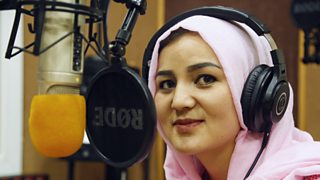 Through our project Her Voice, Her Rights in Afghanistan, we're supporting female journalists across the country to produce programmes that support women and girls' empowerment. Learn more in this guest blog by Mastora Pakbin, a radio journalist and BBC Media Action mentee in Bamyan Province.
My home province, Bamyan, in Afghanistan is famous for its beautiful climate and ancient Buddha statues which, before COVID-19 hit, attracted thousands of tourists all year round. But despite it being one of the most stable and secure provinces in my country, life for women and girls here is extremely challenging.
I'm a producer and presenter for Radio Bamyan – a station based in Bamyan City that serves local audiences with the latest local and national news, and enables citizens to discuss the big issues facing our country.
Joining the station opened a door of hope and opportunity for me to create programmes supporting women and girls. But it took a long time to get here, and I've had to overcome a lot of obstacles along the way.
Growing up, my father's salary was the only source of family income in my home and was not enough to support my university expenses. Girls' education is so often overlooked in Afghanistan – in fact, fewer than a quarter of Afghan women are able to read and write. But thankfully, with the support of my family, we worked hard to raise the money needed so I could get my degree. Many women in Bamyan aren't so lucky.
When I started my career in media, it felt like I was making everyone unhappy and committing some sort of crime. But this adversity has made me stronger and even more determined to change harmful behaviours and attitudes towards women and girls in my society.
I'm extremely proud to produce and present a radio show that supports marginalised female voices – helping to pave the way for women's economic empowerment, equal access to education and social mobility, and female decision-making in family and societal affairs.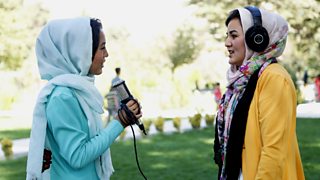 Mastora (right) being interviewed by a fellow Her Voice, Her Rights mentee
The training with BBC Media Action has really improved my abilities as a journalist and given me confidence to create media content that helps make Bamyan a safer, more equal place. Through the training, I've improved my investigative journalism, I better understand editorial values and journalistic principles, I know how to effectively and sensitively cover gender issues, and I've gained many technical skills – including using and repairing my radio equipment.
There are encouraging signs that attitudes in my community are changing.
I recently produced a special show focussed on the benefits of girls' education, which reached a young widow and her family. The family had forbidden the girl from continuing her studies – believing it to bring shame. They believed that she should instead remarry quickly and stay in the home. But after listening to the show, they changed their mind and allowed her to go to school.
In another show, I interviewed a girl called Zahra to talk about female participation in sport – and we discussed how it's a basic right for women and girls to play sports. After the interview, Zahra got in touch to say that many girls in her local area had been inspired by the show and joined her local sports club!
Stories like these motivate me to keep going. And BBC Media Action has connected me with lots of other female journalists across Afghanistan through a private Facebook group who are also inspiring my work.
The group has been a really helpful forum for sharing advice with my peers – particularly now during the COVID-19 pandemic. We're swapping tips and success stories on how to communicate it to our listeners in a simple and clear way, and sharing helpful information from the World Health Organization and Ministry of Public Health.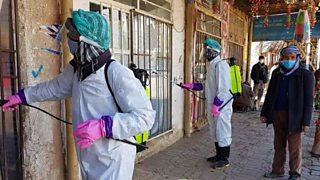 Bamyan Market being disinfected as part of the local COVID-19 response (Source: Radio Bamyan Facebook)
People's lives are changing quickly in Afghanistan due to COVID-19, and citizens are feeling increasingly worried and stressed. The prices of food and basic hygiene products are rising, making everyday life even tougher for many people already living in poverty. And I fear that women and girls are being hit the hardest – we are already witnessing an increased rise in violence against us.
So at Radio Bamyan our work communicating with audiences has become even more important. With the city under partial lockdown, I am following the rules and staying at home as much as possible – only travelling into the station twice a week to deliver my programmes. Only two people are allowed in the building at a time, and we are keeping a safe distance between us and only conducting interviews via phone.
Despite working under difficult circumstances right now, I remain as committed as ever to using my platform and improved journalism skills to empower women and girls through the radio waves.
As one female caller to my show put it: "Women are not born to die in the kitchen. They have rights equal to men – to work, to study, to live."
--
BBC Media Action's Her Voice, Her Rights project in Afghanistan has been running since 2017 and is funded by Global Affairs Canada (GAC).