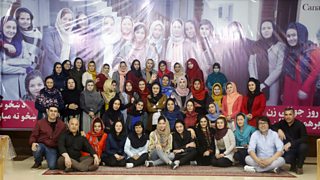 Participants of a women's networking meeting organised under the Her Rights, Her Voice Project
"When a woman or girl wants to work in society, especially to be a journalist and to appear on TV or radio, they have to be strong to cope with family and society to overcome lots of challenges and barriers." – Mahboba, a local reporter speaking at a networking event in Balkh province, Afghanistan, in March 2019.
Afghanistan is one of the most dangerous countries in the world to be a journalist. According to Reporters Without Borders, last year was the deadliest year for Afghan media since the fall of the Taliban regime in 2001, with 15 journalists and media workers killed – 9 in a single day – in a series of bombings.
The situation is even direr for women wishing to pursue a career in journalism.
The first additional hurdle is education: women and girls in Afghanistan are among the most marginalised in the world, with only a third of girls attending school and fewer than a quarter of Afghan women able to read and write.
If a woman is lucky enough to gain an education, she then faces harsh social restrictions which dictate how she lives, speaks, and interacts with others. As Shabana, a journalist from Badakhshan province, puts it:
"Citizens not only oppose female journalists but any women and girls who work in governmental or non-governmental organisations or start their own business. It is due to the existing norms, beliefs and cultures which create barriers to equality."
Yet in the face of these challenges, there are female journalists working in nearly every region of the country, part of a growing movement across Afghanistan, to bring important issues relating to women and girls' empowerment – such as education, economic mobility and decision-making – to light.
I've worked in the Afghanistan media sector for four years, and since 2017 I've been the project manager for BBC Media Action's Her Voice, Her Rights project, funded by Global Affairs Canada. Our project aims to empower women across Afghanistan to speak up about their rights and share their stories, as well as challenge harmful cultural norms that have traditionally silenced them.
Earlier this year, we helped facilitate a two-day women's networking meeting in Balkh Province, northern Afghanistan, which brought together female journalists from across the country in a safe and open environment where they could share their experiences, ideas, and challenges. 42 women in media from 7 different provinces attended, taking part in lively group discussions and expressing themselves through presentations, live theater and poetry – all in celebration of Afghan women.
Watch this short video about the networking event in Balkh Province
Speaking about the event, attendee Razia from Balkh province said "the programme was awesome and unique, where everyone had the opportunity to openly discuss and share ideas […] it was the first programme where the men didn't occupy the first row of chairs and it was a women for women programme."
For many attendees, this was the first time they heard about the experiences of women in other provinces – and some expressed surprise at how similar their challenges were despite geographical, cultural, and political differences.
The good news is that the connections and friendships formed at the event are continuing to thrive – all through the power of social media! Through a secret Facebook group, event attendees are keeping in touch, discussing story ideas and sharing their thoughts on key women's rights issues – all in a safe space where they can speak their minds freely. So far, the group has connected over 100 active female journalists from across Afghanistan, and on average they're posting upwards of 350 posts and comments every day. A recent post by Sabira from Bamyan province about female skiers and women taking part in a bike tournament proved particularly popular, and prompted much discussion around female participation in sport.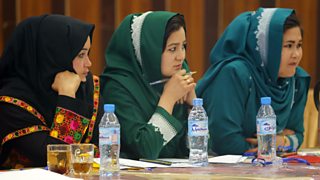 Although right now these conversations are taking place behind closed (virtual) doors, I believe that this Facebook group, and events like the one in Balkh province, offer a window of hope and are truly empowering and emboldening female journalists to increasingly share these stories with the public.
My hope is that the group becomes one of the lasting legacies of Her Voice, Her Rights, connecting female journalists long into the future and generating even more discussion about the role of women in Afghan society. Because empowering women, including female journalists, is essential to achieving a fair and prosperous Afghan society.
--
Mukhtar Yadgar is the Project Manager for our Her Voice, Her Rights programme in Afghanistan, funded by Global Affairs Canada. For more information about our current and former projects in Afghanistan, visit our website. And for more information about our media development work around the world, click here.